Anniversaries - 2009
Guinness - 250th Anniversary: 1759 - Arthur Guinness signed 9000-year lease on disused brewery at St James's Gate in Dublin for initial £100, annual rent of £45; decided soon after to brew variation of porter stout popular in London); 1799 - concentrated solely on production of porter; 1803 - Arthur Guinness II took over ownership, management of Brewery; 1834 - Glass Tax repealed, GUINNESS® bottled in glass rather than stoneware; 1850 - Sir Benjamin Lee Guinness (grandson) took over Brewery; 1862 - introduced GUINNESS® beer label (buff oval label with harp and Arthur Guinness's signature); 1868 - Edward Cecil (great grandson) took over; size of the Brewery doubled; 1876 - Harp registered as trademark; 1886 - first major brewery incorporated as public company on London Stock Exchange; largest brewery in world; 1906 - 3,240 employees (one in 30 Dubliners depend on GUINNESS® brewery for their livelihood); June 4, 1907 - Arthur Guinness Son & Co. Limited registered Guinness "Guinness's Extra Stout James's Gate Dublin Bottled By Arth Guinness Son & Co. Limited" trademark first used March 29, 1862 (stout); 1914 - produced almost 3 million barrels; 1931 - S.S. Guinness steamship launched, first custom-built to transport GUINNESS® beer; January 15, 1935 - registered "Guinness" trademark first used January 1, 1764 (beer); 1963 - last wooden keg racked at Brewery at St. James's Gate; metal kegs used for storing, shipping; 1976 - over 7 million glasses of GUINNESS® drunk daily; 2001 - almost 2 billion pints of GUINNESS® a year sold worldwide, over 1 million pints of GUINNESS® a day sold in Great Britain alone.
Arthur Guinness (http://billcurtsingerphoto.com/ *Resources/*homeimages/Guinness Page/guinness014.jpg)
Presbyterian Ministers' Fund - 250th Anniversary: January 11, 1759 - Governors Thomas and Richard Penn granted charter to Presbyterian Synod of Philadelphia, PA (founded 1716) for The Corporation for Relief of Poor and Distressed Presbyterian Ministers and of the Poor and Distressed Widows and Children of Presbyterian Ministers (successor to charitable organization to assist local Presbyterian ministers called "Fund for Pious Uses" which made first charitable grant to widow of deceased reverend, in 1719); evolved into Presbyterian Ministers and of the Poor and Distressed Widows and Children; America's first life insurance company; separate from but cooperated with Synodical Company; 1760s - had 43 contributors, had issued 21 policies to ministers; May 22, 1761 - wrote first life insurance policy in United States; May 1777 - board of company voted to loan 5000 pounds to Continental Congress to help finance states' efforts against British; 1850s - encouraged subscriptions from ministers from any church under Presbyterian umbrella (reformed churches); name changed to Presbyterian Annuity Corporation; 1870 - corporation insured 126 of over 4,000 ministers; 1875 - name changed to Presbyterian Annuity and Life Insurance Corporation to offer insurance to all; 1880 - insurance restricted to ministers; 1888 - name changed to Presbyterian Ministers' Fund)corporation had returned to practice of insuring only Presbyterian ministers); 1941 - acquired Ministers Mutual Life Insurance Company; 1990 - renamed Covenant Life Insurance Company; 1994 - acquired by Provident Mutual Life Insurance Company; 2002 - acquired by Nationwide Mutual Insurance Company.
Hartford Financial Services Group - 200th Anniversary: May 10, 1810 - Connecticut General Assembly passed act to incorporate Hartford Fire Insurance Company; Nathanial Terry first president; 1822 - reinsured New Haven Fire Insurance Company (one of first reinsurances in U.S.); 1825 - wrote fire insurance policy for Yale University (first for institution of higher learning); 1859 - sold insurance policy to Robert E. Lee to cover his home ("Arlington"); 1861 - sold fire insurance policy to Abraham Lincoln to protect his home, property in Springfield, IL; 1870 - operated coast-to-coast; 1875 - stag logo adopted (from Sir Edwin Landseer's painting, "Monarch of the Glen"); 1906 - paid $11.6 million in damage claims after San Francisco earthquake (most of any insurance company involved); 1913 - formed Hartford Accident & Indemnity Company; 1920 - sold "sickness policy" to babe Ruth to protect his earnings in event of his being unable to play; 1959 - expanded into life insurance, acquired The Columbian National Life Insurance Company; 1970 - acquired by ITT Corporation for $1.4 billion (largest acquisition in corporate history at time); renamed ITT-Hartford Group, Inc.; 1985 - introduced first single premium variable life product; 1993 - introduced first variable universal life product (leading seller of individual annuities in U. S.); December 20, 1995 - spun off from ITT; 1997 - name changed to The Hartford Financial Services Group, Inc.; 2000 - fastest growing retail-oriented mutual fund family to reach $10 billion in assets; 2005 - Fortune 100 company.
Harrod's - 175th Anniversary: 1834 - Charles Henry Harrod set up wholesale grocer in Stepney, in London's East End, special interest in tea; 1849 - took over small shop in new district of Knightsbridge (on site of current store) to escape filth of inner city, to capitalize on trade to Great Exhibition of 1851 in nearby Hyde Park; single room, two assistants, messenger boy; Charles Digby Harrod (son) built business into thriving store, sold medicines, perfumes, stationery, fruit and vegetables; 1880 - expanded into adjoining buildings, employed 100 staff; December 1883 - burnt to ground; fulfilled all Christmas orders, made record profit; rebuilt; 1889 - went public; 1894 - first sale or "Winter Clearance"; 1898 - introduced world's first escalator (brandy at top to revive nervous customers), shortened working hours for 200 staff, devised plan to build world's most luxurious department store; 1901 - building construction began, designed by architect of Claridge's Hotel C.W. Stephens; 1959 - acquired by House of Fraser; 1967 - 'Way In' boutique opened, brought Carnaby Street to Harrods; 1971 - black marble Perfumery Hall opened; 1972 - white marble Cosmetics Hall counterpart opened; March 11, 1985 - Mohamed Al Fayed acquired House of Fraser Group for £615 million.
Charles Digby Harrod (http://www.spartacus.schoolnet. co.uk/Bharrod.jpg)
Phelps Dodge - 175th Anniversary: 1834 - Anson Phelps, a one-time saddle maker, William Dodge (son-in-law), a merchant in dry goods, founded Phelps Dodge as New York City-based mercantile company; traded American products to England in exchange for copper, iron, tin, other metals needed in United States; 1881 - entered mining industry when it invested in share of Detroit Copper Mining Co. in Morenci, AZ; 1906 - exited import-export business; early 1900s - among the first in industry converted to open-pit mining from underground method; 1930s - entered copper refining, manufacturing business; January 17, 1933 - registered "PD-Phelps Dodge-Copper Mining Products Corporation Mine to Market" trademark first used Kuly 20, 1932 (seamless brass and copper tubing); 1970s - converted from trains to wheeled and tracked vehicles to haul equipment and ore within open-pit mines; mid-1980s - first to use solution extraction and electrowinning to process ore on commercial scale; March 19, 2007 - acquired by Freeport-McMoRan $25.9 billion in cash, stock; created world's largest publicly traded copper mining company; operates under name Freeport-McMoRan Copper & Gold Inc.
Anson Greene Phelps (http://www.phelpsinc.com/family/resources/history/anson_g_phelps.jpg)
William Earl Dodge (http://www.barnard.edu/archives/Memorial%20Scroll%20Website/1883Memorial_images/Dodge.jpg)
Phillips Lytle LP - 175th Anniversary: 1834 - Orsamus H. Marshall opened law practice in Buffalo, NY; changed to Marshall & Harvey; 1862 - Lyman K. Bass joined firm, renamed Harvey & Bass; 1872 - Wilson S. Bissell joined firm, renamed Bass & Bissell; 1874 - Grover Cleveland joined, renamed Bass, Cleveland & Bissell (Cleveland left in 1881, became governor of New York); 1897 - Walter P. Cooke joined firm, renamed Bissell, Carey & Cooke; 1906 - Daniel J. Kenefick (former State Supreme Court Justice) joined practice, created Kenefick, Cooke & Mitchell (James McCormick Mitchell); 1911 - Edward H. Letchworth (former Deputy Attorney General of New York) joined Kenefick, Cooke, Mitchell & Bass; 1928 - George F. Phillips joined firm; 1929 - renamed Kenefick, Cooke, Mitchell, Bass & Letchworth; 1946 - William E. Lytle joined firm; 1960 - renamed Phillips, Mahoney, Lytle, Yorkey & Letchworth; 1970 - renamed Phillips, Lytle, Hitchcock, Blaine & Huber (John F. Huber joined firm in 1967); 1978 -Jamestown, NY office (via merger); 1982 - Rochester, NY office (via merger); opened office in New York City; 1994 - Fredonia, NY office (via merger); 2003 - name changed to Phillips Lytle LP; 2006 - Albany, NY office via merger); 142-year relationship with Marine Midland Bank (established 1850, now HSBC); farthest geographic reach of any law firm in state of New York.
Orsamus H. Marshall - Phillips Lytle LP (http://library.buffalo.edu/archives/img/marshall2.jpg)
Equitable Life Insurance - 150th Anniversary: July 26, 1859 - Henry B. Hyde (25), former cashier at Mutual Life Insurance Company of New York, rented space in building located at 98 Broadway in Manhattan; hanged 30-foot banner from window, incorporated The Equitable Life Assurance Society of the United States; 1868 - introduced tontines (annuity products that pay deferred dividends); dominated industry for 35 years (1867-1905); 1870 - first American business to build its own corporate headquarters, put its name on it (120 Broadway in Manhattan), first to use steam elevators (office building as promotional tool, workplace); 1880 - pioneered practice of paying death claims immediately; 1890 - largest insurance company in world (measured in surplus); 1902 - introduced training classes for new insurance agents; 1909 - developed first modern Home Purchase plan (major industry product for five decades); 1911 - sold first modern Group Life policy to Pantasote Leather Company (to Montgomery Ward in 1912); 1951 - developed Individual In-Hospital Major Medical Expense insurance; 1961 - opened 42-story home office building, largest building in country occupied by single company; 1968 - introduced first line of individual variable annuity products; 1985 - acquired Donaldson, Lufkin & Jenrette, its money management arm, Alliance Capital Management, L.P.; 1991 - New York State Insurance Department certified policyholder approval of demutualization; AXA Group, second largest French insurance company, invested $1 billion; 1992 - completed New York's largest Initial Public Offering for insurance company (AXA Group single largest shareholder); assets under management exceeded $150 billion; 1995 - $230 billion in assets under management; statutory capital/general accounts liabilities ratio reached 11.86%, highest among America's top 10 life insurers; 1997 -AXA Group assets exceeded $450 billion; merged with rival UAP, became second largest insurer in world; 2000 - AXA acquired control of Equitable Life Insurance Company; 2003 - AXA Group leading insurer in world, 50 million clients in 50 countries, $979 billion in client assets under management; 2004 - acquired Mutual of New York (MONY), former employer of Equitable founder Henry Hyde; 2008 - 15th largest organization in world on 2008 Fortune Global 500 list (based on revenues); 2008 - 15th largest organization in world on 2008 Fortune Global 500 list (based on revenues). Hyde May 3, 1899 Obituary: http://query.nytimes.com/mem/archive-free/pdf?_r=1&res=9B01E3D71030E333A25750C0A9639C94689ED7CF
Gardner Denver - 150th Anniversary: 1859 - Robert Gardner provided first effective speed controls for steam engines; Gardner Governor Company manufactured flyball governors, led to production of steam pumps, high speed vertical air compressors; 1900 - steam pump technology adapted for use in mud pumps (became part of oil, natural gas well drilling process); 1927 - merged with Denver Rock Drill Company, renamed Gardner-Denver; 1959 - acquired CycloBlower Company (manufacturer of helical screw blowers); 1979 - acquired by Cooper Industries; became Gardner Denver Industrial Machinery Division; 1985-1988 - acquired Sutorbilt, DuroFlow blowers, OPI well servicing pumps, Joy compressors; 1994 - spun off as independent company; 2004 - acquired Drum blowers, Emco Wheaton bulk storage and fluid transfer equipment; 2005 - acquired Thomas Industries (Rietschle, Thomas brands, latest line of precision-engineered blowers, pumps, compressors); 2009 - provides compressed air and gas, vacuum and fluid transfer technologies to industries throughout world.
Robert Gardner - Gardner Denver (http://www.gardnerdenver.com/uploadedImages/GardnerDenver/Images/History-graphics(2).jpg)
Oil - 150th Anniversary: August 27, 1859 - Edwin Drake (Seneca Oil Co.), William A. "Uncle Billy" Smith, blacksmith and driller, using old steam engine to power the drill, struck oil on leased land at 69 feet, 6 inches in Venango Oil Field near Titusville, PA; noticed dark film floating on water below derrick floor; started producing about 40 barrels of oil/day; world's first successful oil well; beginning of American oil industry. "Oil 150" is the official website of the 150th anniversary celebration of the oil industry - http://www.oil150.com/.
Edwin Drake - discovered first oil in US (http://www.pbs.org/wgbh/theymadeamerica/whomade/images/who_drake_image.jpg)
Tate & Lyle - 150th Anniversary: 1859 - Henry Tate (40), grocer in Liverpool, joined John Wright & Co, sugar refinery, as partner; 1862 - set up his own refinery; joined by Alfred and Edwin (sons), formed Henry Tate & Sons; 1872 - Love Lane Refinery (Liverpool) began operations; incorporated new refining technique to increase yield of white sugar; 1875 - acquired rights, in partnership with David Martineau, from German inventor Eugen Langen, introduced sugar cube to UK; 1878 -- opened refinery at Silvertown in East London; 1921 - merged with Abram Lyle & Sons, formed Tate & Lyle PLC; 1963 - acquired United Molasses for £30 million, became world leader in molasses trade; 1976 - acquired one-third stake in Amylum, established first major interest in cereal sweetener, starch-based manufacturing; 1988 - acquired 90% North American AE Staley Manufacturing Co. (2000 - acquired balance); increased stake in Amylum to 63%; 1998 - acquired citric acid business of Haarmann & Reimer (subsidiary of Bayer AG), became world's leading producer of citric acid; 2006 - Lyle's Golden Syrup tin design named Guinness World Records as world's oldest branding (packaging); March 21 2006 - annual sales of £3.7 billion, 7,000 employees in subsidiaries, 4,800 in joint ventures.
Henry Tate - Tate & Lyle (http://www.spartacus.schoolnet.co.uk/ Btate.jpg)

Abram Lyle - Tate & Lyle (http://www.todayinsci.com/L/ Lyle_Abram/LyleAbramThm.jpg)
Bonbons Barnier - 125th Anniversary: 1885 - Brothers Pierre and Marius Barnier established artisan confectionary company in Rouen, France; produced bonbons under name of Bonbons Suisse; 1900 - acquired by Eugène Callet, wholesaler in confectioner in Nantes, renamed Bonbons Barnier; 1930 - first machines to wrap bonbons; introduced filled candies; 1969 - 'mini bonbon' created; 2007 - managed by fourth Callet generation.
California Western Fish Company - 125th Anniversary: 1885 - John Baptist Caito and family started Western Fish Company in Pittsburg, CA; processed salmon caught in in Sacramento River; 1906 - earthquake destroyed production facility; formed California Western Fish Company; 1975 - fourth-generation Caito Brothers (Joe, Jim & John) took over operation; process millions of pounds of crab, cod, snapper, salmon at five locations along West Coast.
HLW International - 125th Anniversary: 1885 - Cyrus Lazelle Warner Eidlitz (son of noted architect, founder of American Institute of Architects) opened architectural office with commission, from Alexander Graham Bell, to design Metropolitan Telephone Building on Cortlandt Street (New York City), first telephone building in Manhattan; 1900 - formed partnership with Andrew C. McKenzie (structural engineer), established Eidlitz & McKenzie to pioneer new building design; 1905 - designed The New York Times Building; 1910 - Eidlitz left firm, Stephen F. Voorhees, Paul Gmelin made partners, firm reorganized, renamed as McKenzie, Voorhees & Gmelin; 1926 - Ralph T. Walker made partner, name changed to Voorhees, Gmelin and Walker; 1939 - received ten commissions for World's Fair; 1940 - Max H. Foley, Perry Coke Smith made partners, formed Voorhees, Walker, Foley & Smith; 1955 - Foley left, renamed Voorhees, Walker, Smith & Smith (Benjamin Lane Smith made partner earlier); 1959 - Charles Haines, principal contributor to firm's design work for research facilities, made partner; name changed to Voorhees, Walker, Smith, Smith & Haines; 1964 - Robert Lundberg, Frank J. Waehler made partners, renamed Smith, Smith Lundberg & Waehler; 1968 - renamed HLW (Haines, Lundberg Waehler; Smiths retired).
Wilkin & Sons - 125th Anniversary: 1885 - Farmer Arthur Charles Wilkin, two friends formed Britannia Fruit Preserving Company; made first batch of strawberry jam in Tiptree, Essex, UK; 1901 - 8,000 customers; 1905 - renamed 'Wilkin & Sons Limited'; 1911 - King George V awarded Royal Warrant; 1913 - Charles J. Wilkin (son) became Chairman; 1920 - sales exceeded £100,000, over 200,000 customers; 1942 - T.G. Wilkin appointed director, A. F. Wilkin appointed chairman; September 30, 1952 - Wilkin & Sons Limited registered "Tiptree" trademark first used 1904 (fruit conserves, Jams, Marmalades, preserved fruits, fruit preserves, and vegetable preserves and honey and chutney); 1954 - HM the Queen awarded Royal Warrant for supply of Jam & Marmalade; 1971 - Peter Wilkin (great-grandson) appointed director; 1980 - sales exceeded £5million, exports to over 50 countries; 2009 - more than 200 full-time staff.
Charles Wilkin - Wilkin & Son (http://tiptreegardenclub.com/images/wilkin.jpg)
Louisville Slugger - 125th Anniversary: 1884 - John ''Bud'' Hillerich (family opened woodworking shop in Louisville, KY in 1855) began making baseball bats (either for local legend Pete Browning, the "Louisville Slugger", of Louisville Eclipse baseball team of American Association) or for Arlie Latham of St. Louis Browns in 1883; believed to be company's first baseball bat for professional player; became world-famous "Louisville Slugger" baseball bat, changed face of baseball; 1897 - name changed to J.F. Hillerich & Son; 1905 - Honus Wagner (Pittsburgh Pirates) signed deal with company to use his autograph on Louisville Slugger bats; first baseball player to officially endorse a bat; 1916 - Frank Bradsby, salesman, became partner, name changed to Hillerich and Bradsby; July 9, 1940 - registered "Louisville Slugger" trademark first used October 10, 1938 (advertising novelties-namely, pens, pencils, and the like in the form of miniature baseball bats); 2007 - contracts with 60%-70% of MLB players (35-40% of market for aluminum bats).
Marks & Spencer - 125th Anniversary: 1884 - Michael Marks opened stall at Leeds Kirkgate Market; 1894 - 12 locations; formed partnership with Thomas Spencer, former cashier from wholesale company Isaac J. Dewhirst; invested £300; 1903 - Marks and Spencer Ltd registered as firm with capital of 30,000 £1 shares (split equally between two founders); July 1905 - Spencer died; October 1907 - Simon Marks (son) joined company; William Chapman, executor of Spencer estate, named Chairman; February 1914 - bought London Penny Bazaar Company; 1915 - Israel Sieff, very close friend of Simon Marks, elected to Board of Directors; 1916 - Simon Marks (28) became Chairman; 1926 - started buying goods directly from manufacturers; November 1930 - flagship store opened at Marble Arch, London (located in basement, ground floor of newly erected office block); 1931 - introduced food department, sold produce and canned goods; 1934 - established Scientific Research Lab to pre-test garments, research innovative new fabrics; first research lab of any British retailer; 1935 - opened first Cafe Bar in Leeds (82 café bars by 1942; gradually phased out in 1950s); Marcus Sieff (son) joined company; 1939 - 234 stores; 1948 - established Food Technology department; 1956 - all goods sold under St Michael label; 1959 - first retailer to introduce No Smoking rules in stores; 1964 - Israel Sieff became Chairman; 1970 - 'Sell By Dates' introduced; 1972 - Marcus Sieff became Chairman; 1975 - opened store on Boulevard Haussman in Paris, first in Europe (closed in 2001); 1985 - Christmas Hampers tested for first time in 30 stores; 1988 - acquired Brook Brothers, American clothing company (sold in 2002), Kings Supermarkets, American food chain (sold in 2006); May 17, 2004 - Phillip Green (Revival Acquisitions Limited) launched takeover attempt; May 31, 2004 - Stuart Rose appointed Chief Executive; pushed business forward with focus on quality, value, service, innovation, trust (named Chairman in June 2008).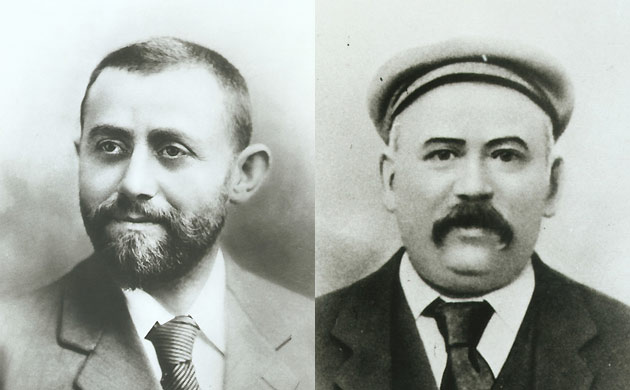 Michael Marks, Thomas Spencer - Marks & Spencer (http://static.guim.co.uk/Guardian/business/gallery/2008/jul/09/marksandspencer.history/marks-8229.jpg)
McGraw-Hill - 125th Anniversary: 1884 - James H. McGraw, a teacher in upstate New York, began working in publishing; 1888 - purchased the American Journal of Railway Appliances; John A. Hill worked as an editor at Locomotive Engineer; 1899 - McGraw incorporated publications under "The McGraw Publishing Company"; 1902 - John Hill incorporated publications under "The Hill Publishing Company"; 1909 - book departments of the two publishing companies merged; formed McGraw-Hill Book Company; John Hill took office of President (died in 1916); James McGraw became company's Vice-President.
James H. McGraw (http://www.mcgraw-hill.com/aboutus/images/history_jmcgraw.jpg)
John A. Hill (http://www.mcgraw-hill.com/aboutus/images/history_jhill.jpg)
Oxford English Dictionary - 125th Anniversary: February 1, 1884 - The first volume (A-Ant) of the Oxford English Dictionary was published (conceived in 1858 as project of Philological Society of England); April 1928 - 125th, final fascicle published; 400,000 words and phrases in 10 volumes, published under title A New English Dictionary on Historical Principles; verb "set" is OED's longest entry (approximately 60,000 words, over 430 uses); 1933 - supplement, containing new entries and revisions, published; original dictionary reprinted in 12 volumes, officially renamed the Oxford English Dictionary.
Sir James A. H. Murray - Primary Editor, Oxford English Dictionary (http://www.columbia.edu/cu/record/archives/vol22/vol22_iss2/murray2.gif)
Playbill - 125th Anniversary: 1884 - Frank V. Strauss, Ohio advertising man, began Frank V. Strauss & Co. as advertising business in New York; started "The New York Dramatic Chronicle" as one-page flyer to combine advertising with theater programs; September 1885 - earliest Strauss program listing found for production at Madison Square Theater; 1888 - opened press on Walker Street; 1903 - provided programs for 250 theaters; 1911 - renamed Strauss Magazine Theatre Program, multi-page program in magazine format; 1934 - name changed to "Playbill"; 1974 - acquired by Arthur T. Birsh; December 19, 1978 - American Theater Press, Inc. registered "Playbill" trademark first used July 6, 1934 (entertainment magazines, fashion magazines, theater guides and luncheon programs); oldest, most unusual throwaway publication in U.S.
D. Zelinsky & Sons - 125th Anniversary: 1884 - Immigrant David Zelinsky established first office in Oakland, CA; shortly moved offices to San Francisco; established D. Zelinsky & Sons, Inc.; became one of largest painting contractors in United States; played major role in painting, decorating many of major construction projects in San Francisco Bay Area; grew into multi-million dollar corporation with major commercial contracts in painting, custom window covering; portfolio of diverse projects (hotels, department stores, high-rises, condominiums, medical facilities, industrial complexes, government and educational buildings).
A.L.F.A. - 100th Anniversary: 1910 - "Anonima Lombarda Fabbrica Automobili", A.L.F.A., founded, under direction of Cavalier Ugo Stella.
Black & Decker - 100th Anniversary: 1910 - S. Duncan Black, Alonzo G. Decker established small machine shop in Baltimore, MD; November 6, 1917 - received a patent for an "Electrically-Driven Tool"; hand-held drill combined pistol grip, trigger switch; assigned to The Black & Decker Manufacturing Company; 1936 - went public; 1946 - introduced Home Utility line of drills, accessories; 1956 - Robert D. Black (brother) named chairman of board, president; 1960 - Alonzo G. Decker, Jr. succeeded as chairman, chief executive officer; acquired DeWalt, Inc. of Lancaster, PA; 1975 - first non-family member headed company; June 26, 1984 - registered "Dustbuster" trademark first used November 1978 (Hand-Held Household Vacuum Cleaners and Replacement Filter Bags and Nozzles Used Therewith); introduced household appliances; 1985 - name changed to The Black & Decker Corporation; 1989 - acquired Emhart Corporation, ($2.8 billion in revenue), nearly doubled company's size; November 2, 2009 - acquired by Stanley Works (founded 1843, 2008 sales of $4.5 billion) for $4.5 billion, renamed Stanley Black & Decker.
(http://www.blackanddecker.de/images/black.jpg)
(http://www.blackanddecker.de/ images/decker.jpg)
Champion Spark Plug - 100th Anniversary: July 2, 1910 - Robert A. Stranahan (former manager of Albert Champion Company in Boston, MA in 1909) - spark plug production less than 50,000; [Albert Champion left company in late 1908, moved to Flint, MI, started Champion Ignition Company, later renamed A-C Spark Plugs]), Frank D. Stranahan (former treasurer of Albert Champion Company) incorporated Champion Spark Plug Company ($22,000 in debt) in Toledo, OH (in accordance with manufacturing contract with Willys-Overland Company - second largest producer of automobiles in United States, behind Ford Motor Company, from 1912-1918); July 18, 1911 - James D. Robertson, of Toledo, OH, received a patent for a "Terminal Clamp"; assigned to Champion Spark Plug Company; company's first patent; 1912 - supplied reliable spark plugs for 75% of American cars; August 12, 1913 - registered "Champion" trademark first used in April 1907 (spark plugs); 1964 - sales of $124 million; 1989 - acquired for $600 million by Dana Corporation.
Robert A. Stranahan - Champion Spark Plug
(http://automotivehalloffame.org/honors/show_image.php?img=1&id=188)
Cities Service - 100th Anniversary: 1910 - Henry L. Dougherty created Cities Service Company to supply gas, electricity to small public utilities; 1931 - billion dollar corporation with 25,000 employees; 1940 - Cities Service erected landmark sign in Kenmore Square in Boston (replaced with CITGO sign in 1965); September 4, 1956 - Cities Service Oil Company registered "Cities Service" trademark first used in May 1921; May 16, 1965 - introduced name CITGO; October 26, 1965 - registered "Citgo" trademark first used February 4, 1965 (gasoline); 1982 - acquired by Occidental Petroleum; August 1983 - acquired by The Southland Corporation to assure supply of gasoline to Southland's 7-Eleven convenience store chain; September 1986 - 50 percent interest acquired by Petróleos de Venezuela, S.A. (PDVSA), national oil company of Bolivarian Republic of Venezuela; January 1990 - remaining half acquired (total purchase price of $951 million).
Macy's Trademark - 100th Anniversary: June 7, 1910 - R. H. Macy & Co. registered "Macy's trademark first used in 1858 (men's [youths' and boys'] coats, vests, trousers and overcoats, ladies' [misses' and children's] coats, cloaks, raincoats, inner and outer suits, outer skirts and trimmed hats, etc.);
H. L. Gross & Bro. Jewelers - 100th Anniversary: 1910 - H. L. Gross, two sons (15, 19) opened H.L .Gross & Bro. Jewelers in Brooklyn, New York (six blocks from jewelry store owned by their uncle); 1914 - sons took over; displayed jewelry on board supported by two sugar barrels; mid-1920s - opened store in Jamaica, Queens; shortly thereafter moved to Hempstead, Long Island; 1969 - Howard Gross (grandson), wife Helene opened store in Garden City; 1971 - Michael Gross (great grandson ) joined business, fourth generation; 2001 - Brad Gross (great great grandson) entered; fifth generation.
Conde Nast Publications - 100th Anniversary: 1909 - Conde Montrose Nast, successful advertising executive for Collier's, acquired society-focused bi-weekly, Vogue (founded1892, circulation of 14,000, advertising revenues of $100,000); formed Vogue Company; 1913 - acquired House and Garden; 1914 - introduced Vanity Fair; introduced concept of "class publications", targeted groups of readers by income level or common interest vs. focusing on circulation numbers; 1920s - established Conde Nast Publications; July 1932 - became one of first magazines to publish cover with color photograph; 1959 - controlling interest acquired by S.I. Newhouse; part of holding company Advance Publications; 1974 - first cover featuring African-American model.
Drake Relays - 100th Anniversary: April 13, 1910 - 82 athletes (from four local colleges, three high schools), 100 spectators attended first "Drake Relay Carnival" at Drake University (Iowa's largest private university) in blizzard on dirt track on outskirts of fledgling Des Moines (proposed by John L. Griffith, Director of Athletics at Drake University); 1911 - hosted dinner for visiting coaches, officials to build relationships, exchange ideas; 500 spectators watched more than 250 athletes compete in second Relay; 1915 - recognized as third-largest track and field event in world; 1922 - expanded to 2-day meet (700 athletes, 10,000 spectators); first track and field meet to be broadcast live on radio; 1923 - moved to last week in April to compete with Penn Relays; 1936 - attendance reached 20,000; 1961 - women's competition introduced; 1969 - Tartan track installed; 1976 - oval converted to 400 meters (from 440 meters), all timing became electronic; one of largest, most important track meets in United States (more than 600,000 athletes have competed over 99 years; every Saturday session sold out since 1966; estimated 2.3 million spectators since 1910)
Fletcher Construction - 100th Anniversary: June 1, 1909 - James Fletcher, Scotsman, Albert Morris, Englishman, who had formed Fletcher and Morris, small housing-building and jobbing partnership in Dunedin, New Zealand, awarded first contract to build villa for J. M. Cameron; 1912 - Morris left; William Fletcher (brother) joined business (followed by Andrew, John), renamed Fletcher Brothers; November 4, 1919 - registered The Fletcher Construction Company Limited as limited liability company with capital of £50,000; 1937 - James (J. C.) Fletcher (son) joined company (named Managing Director in 1942); 1940 - formed Fletcher Holdings as public company; 1945 - third of company acquired by Colonial Sugar Refining Co Ltd (Australia) for £250,000; 1951 - joint venture with two American companies, first of its kind in New Zealand; 1952 - with Government, formed the Tasman Pulp & Paper Co. Ltd. to use pulp from radiata pine for kraft papermaking in the central North Island; 1953 - largest construction project undertaken at time in New Zealand (houses of Kawerau township); 1954 - formed seven subsidiaries (timber, construction, steel, sales and service, trust company, industry, plant hire); 1955 - acquired Kauri Timber Co Ltd., became New Zealand's biggest timber processor; annual sales exceeded £13.2 million; 1965 - generated £1,000,000 profit; late 1970s - shopping mall development, construction and property sector; increasing focus on construction management, design and build; company acted as a developer in its own right; 1981 - formed Fletcher Challenge Ltd (merger of Fletcher Challenge, Tasman Pulp and Paper Co. Ltd, Challenge Corporation), New Zealand's largest public company; December 1999 - reorganized, broken into three companies: Fletcher Building (Fletcher Construction; operating revenue of $2.38 billion in 2000), Fletcher Challenge Forests (now named Tenon), Rubicon (New Zealand) to commercialize emerging technologies; 2002 - building backlog of $400 million; one New Zealand's best-performing listed companies, 12,000 employees worldwide, dominated domestic building industry; pre-eminent general contractor in New Zealand, South Pacific.
James Fletcher (sitting, 3rd from left) - Fletcher Construction (http://www.fletchersince1909.com/timeline/images/1910_image_03.jpg)
Ford Trademark - 100th Anniversary: July 20, 1909 - Ford Motor Company registered "Ford" trademark first used February 15, 1895 (automobiles and their parts).
Goodyear Aviation - 100th Anniversary: 1909 - Goodyear Aviation introduced Goodyear Wing Aeroplane Tire, first tire built for aviation use (lightweight, puncture resistant, easy to remove); 1927 - introduced first re-treadable aircraft tire; opened era of lower cost operation (still vital part of aviation industry); 1928 - introduced Goodyear Airwheel, first low pressure aviation tire, virtually eliminated need for wheel (mounted directly to hub); 1939 - The Goodyear Aircraft Company incorporated; entered other areas of aeronautics (wheels, brakes, fuselages, other critical components for military aircraft); developed first successful autopilot for helicopters (Korean War); produced successful Corsair aircraft; 2009 - world's largest supplier of aviation tires for commercial, military, general aviation aircraft.
Howard Theater - 100th Anniversary: August 22, 1910 - National Amusement Company opened Howard Theatre in primarily African-American area of Washington, near Howard University (sat 1,200); mid-1920s - acquired by Abe Lichtman, white owner of theaters that catered to African-Americans; billed as "largest colored theater in the World"; featured vaudeville, live theater, musicals, local talent shows; 1929 - closed during Depression; 1931 - reopened by Shep Allen, theater manager from Atlantic City, as movie house, live entertainment venue (Duke Ellington played on reopening night); 1941 - underwent massive remodeling, in Streamline style; 1970 - closed, shuttered; 1973 - Howard Theater Foundation formed, raised funds were to refurbish aging theater; April 1975 - reopened (Red Foxx, Melba Moore); 1970s-early 1980 - used sporadically as venue for live entertainment; 2007 - Ellis Development Group, Four Points, LLC. formed Howard Theatre Restoration, Inc. to raise $10-14 million (of $25 million project) to restore Theatre for 100th Anniversary (after $8 million D.C. grants, $6 million of tax credits).
MG - 100th Anniversary: 1910 - William Morris, bicycle manufacturer, founded Morris Motor Company (MMC); 1913 - opened factory Cowley, Oxford, UK; produced first cars, two-seater Oxford model; 1920s - Oxford, Cowley models became best selling cars in UK; 1924 - overtook Ford, became UK's biggest car manufacturer, held a 51% share of home market; 1927 - acquired Wolseley Motor Company, 1929 - Morris Minor introduced to compete with Austin Seven; powered by an 847cc OHC engine; 1935 - launched popular 918cc Morris Eight (more than 250,000 sold); 1938 - William Morris became Viscount Nuffield; merged MCC and MG with newly acquired Riley, formed Nuffield Organisation; 1948 - Morris Minor re-engineered; first BMC car to sell more than a million; 1952 - Nuffield Organisation (Morris, MG, Riley, Wolseley) merged with rival Austin Motor Company, formed British Motor Corporation (BMC); Austin's Leonard Lord in charge, dominated organization; 1960s - employed 250,000 people, Longbridge factory one of biggest in world; April 8, 2005 - collapsed under debts of $1.7 billion, loss of more than 5,000 jobs; July 22, 2005 - MG Rover Group acquired by Nanjing Automobile for $97 million; March 27, 2007 - revived MG brand, began production of MG sports cars.
William Morris - MG (http://www.nuffieldfoundation.org/imageLibrary/jpeg150/94.jpg)
Kerotest - 100th Anniversary: 1909 - Edward George Mueller, one of earliest pioneers in commercial oxygen business, organized Pittsburgh Reinforced Brazing & Machine Company (treasurer until 1920, named president); 1914 - developed valves for high pressure compressed gases; 1917 - introduced first American manufactured cast steel gate valve for oil industry; 1921 - introduced testing of high-pressure valves with Kerosene, became industry standard; 1927 - name changed to "Kerotest Manufacturing Company" ("Kerosene Tested"); 1963 - entered gas distribution industry with "Model 1 (first steel gate valve designed specifically for natural gas service); 1971 - introduced first Packless Metal-Diaphragm valve for nuclear service, became leading valve supplier to over 100 nuclear power plants worldwide; 1983 - created ESOP, became "employee owned company"; 1999 - honored as "Pennsylvania ESOP Company of the Year" by ESOP Association at ceremony in Washington DC; 2009 - leading supplier of valves and related equipment for worldwide energy markets, including natural gas distribution, oil & gas drilling, nuclear fuel.
Edward George Mueller - Kerotest (http://www.kerotest100.com/images/overview-01.jpg)

Lonrho plc -

100th Anniversary

: May 13, 1909/strong> - London and Rhodesian Mining Company Limited incorporated (Lonrho plc); 1961 - Roland "Tiny" Rowland joined company; sales (over 34 years) increased 787-fold, profits rose 1,365 times; January 1993 - Dieter Bock, German financier, became largest shareholder; shared chief executive's position with Rowland; October 1993 - forced to step down as Chairman; November 3, 1994 - Rowland ousted from chief executive position; January 1997 - Anglo American Corporation of South Africa Ltd., South Africa's largest company, acquired 26% controlling interest in Lonrho; changed focus to mining (platinum, gold, coal) in Africa; 1997 - Bock gone; 1999 - renamed Lonmin plc to symbolize return to mining roots.
Roland "Tiny" Rowland - Lonrho (http://news.bbc.co.uk/olmedia/135000/images/_139540_rowland300.jpg)
Martin Marietta - 100th Anniversary: 1909 - Aviation pioneer Glenn L. Martin launched maiden voyage of first aeroplane, made of silk and bamboo, in Santa Ana, CA.; June 16, 1909 - sold first commercial U.S. airplane, for $5,000; 1912 - incorporated Glenn L. Martin Company in Los Angeles, CA; 1914 - delivered first Model TT Trainer planes to U.S. Army Signal Corps.; 1916 - merged with Wright Company, formed Wright-Martin Aircraft Company; 1917 - backed by group of Ohio investors, Glenn Martin left Wright-Martin Company, reestablished Glenn L. Martin Company in Ohio; 1926 - incorporated in Maryland, opened aircraft manufacturing plant in Middle River, near Baltimore (still in operation); first airplane built is XT5M-1 bomber; 1961 - merged with American-Marietta Company, renamed Martin Marietta; March 15, 1995 - Lockheed Corporation, Martin Marietta Corporation merger completed.
Glenn L. Martin (http://www.centennialofflight.gov/ essay/ Aerospace/Martin/Aero12G13.jpg)
Montreal Canadiens - 100th Anniversary: December 4, 1909 - J. Ambrose O'Brien, sportsman from Ottawa, owner of Renfrew Creamery Kings, founded Club de Hockey Le Canadien, with financial support from another magnate, T.C. Hare (provided $1,000 required for league entry, $5,000 to guarantee players' salaries); played; January 5, 1910 - played first game in newly formed National Hockey Association (had been rejected for membership in Canadian Hockey Association), beat Cobalt Silver Kings 7-6 in overtime before 3,000 spectators at Jubilee Rink (nullified when NHA absorbed CHA teams, created new schedule); February 7, 1910 - first official win against Haileybury Hockey Club; finished season with 2-10 record; November 2, 1910 - acquired by George W. Kendall (Kennedy), owner of "Club Athletique Canadien" (founded 1905); claimed rights to 'Canadien' name, paid $7500 for team; sweaters changed from blue to red during improved 8-8 season (finished 2nd in NHA); 1914 - first winning season, finished 2nd (13-7 record); 1916 - defeated Portland Rosebuds (PCHA) for first Stanley Cup victory (3-2); players received $238 for winning cup; 1917 - jerseys changed (H, for Habitants, replaced A); became one of most familiar insignias in world of sport; 1918 - owners of NHA teams formed new league (National Hockey League); 1922 - acquired by Leo Dandurand, Jos Cattarinich, Louis A Letourneau for $11,500; 1924 - first game ever at Montreal Forum, Habs beat Toronto St. Patricks 7-1; 1945 - Maurice Richard became first player to score 50 goals in single 50-game season; 1952 - Jacques Plante made NHL debut; 1953 - Jean Beliveau played first full season; 1956 - first 100-point season; 1957 - acquired by Tom, Hartland Molson (Molson Brreweries); November 1, 1959 - Plante became first goalie to wear facemask in NHL game; 1971 - Guy LaFleur became instant fan favorite in rookie season; 1975 - won newly established Norris Division; 1977 - Steve Shutt scored 60 goals, record for Left Wingers; Guy LaFleur won Hart Trophy (amassed 1936 points, new franchise record); 1981 - Canadiens shifted to Adams Division; 1984 - first losing season in 33 years; 1985 - Goalie Patrick Roy (20) played first full season; 1986 - won 23rd Stanley Cup, professional team sports record for most championships; 1992 - 100th Anniversary of dedication of Stanley Cup; June 2001 - 80.1% interest acquired by George N. Gillett, Jr. for $275 million (Canadian) plus right of first refusal upon team resale; 2004 - Season Cancelled Due to Lock Out.
J. Ambrose O'Brien - Montreal Canadiens (http://assets.sbnation.com/imported_assets/52037/obrien_ambrose_large.jpg)

NAACP - 100th Anniversary: February 12, 1909 - Ida Wells-Barnett, W.E.B. DuBois, Henry Moscowitz, Mary White Ovington, Oswald Garrison Villiard, William English Walling, multiracial group of activists, founded National Negro Committee in New York City; 1918 - President Woodrow Wilson finally made public statement against lynching; 1930 - first successful protests against Supreme Court justice nominees launched against John Parker (officially favored laws that discriminated against African Americans); 1935 - NAACP lawyers Charles Houston, Thurgood Marshall won legal battle to admit black student to University of Maryland; 1946 - won Morgan vs. Virginia case (Supreme Court banned states from having laws that sanction segregated facilities in interstate travel by train and bus); 1948 -pressured President Harry Truman to sign Executive Order banning discrimination by Federal government; 1954 - under leadership of Special Counsel Thurgood Marshall, won one of greatest legal victories in Brown vs. the Board of Education; 1955 - Rosa Parks arrested, fined for refusing to give up her seat on segregated bus in Montgomery, AL; catalyst for largest grassroots civil rights movement (collective efforts of NAACP, SCLC other Black organizations); 1963 - NAACP's first Field Director, Medgar Evers assassinated in front of his house in Jackson, MS; 1964 - Congress passed Civil Rights Act; 1965 - Voting Rights Act passed; 1981 - established Fair Share Program with major corporations across country (70 by 1992); 2000 - largest Black voter turnout in 20 years; January 17, 2000 - march in Columbia, SC, attended by over 50,000, protested flying of Confederate Battle Flag; largest civil rights demonstration ever held in South to date.

L'Oreal -

100th Anniversary

: 1909 - Eugène Schueller, French chemist, registered company as L'Oreal (liked sound of name), "Société Française de Teintures Inoffensives pour Cheveux" ("Safe Hair Dye Company of France"; had developed innovative hair-color formula in 1907, called Auréole); formulated, manufactured his own products, sold to Parisian hairdressers; 1936 - invented first sunscreen; April 3, 1951 - registered "L'Oreal" trademark in U. S. (rouge, face cream, hair lotion, hand cream, eye shadow, face lotion, perfume, cologne, nail polish, suntan oil and face powder); March 17, 2006 - agreed to pay £652 million to acquire ethical cosmetics company, The Body Shop.
Eugene Schueller - L'Oreal (http://image.evene.fr/img/celeb/2906.jpg)
Plastics - 100th Anniversary: September 14, 1909 - Leo H. Baekeland, of Yonkers, NY, registered "Bakelite" trademark first used June 30, 1907 (condensation products of phenol and formaldehyde); December 7, 1909 - received patent for for a "Method of Making Insoluble products of Phenol and Formaldehyde" ("production of hard, insoluble and infusible condensation products of phenols and formaldehyde"); received two patents for "Condensation Product and Method of Making Same" ("some industrial applications in the manufacture of varnishes, resinous products and plastic compounds"); thermosetting artificial plastic; called Bakelite (nonflammable material that was cheaper , more versatile than other known plastics), commonly referred to as the "heat and pressure" patent); gave birth to modern plastics industry; 1910 - founded General Bakelite Corporation, later Bakelite Company; 1939 - merged with Union Carbide Corporation.
Leo H. Baekeland (1907 - transformed phenol and formaldehyde into a moldable substance called "Bakelite" - "the material of a thousand uses" (i. e plastic) (http://img.timeinc.net/time/ magazine/archive/ covers/1924/1101240922_400.jpg)
Rizzoli - 100th Anniversary: 1909 - Angelo Rizzoli founded A. Rizzoli & Compagnia printing and publishing house in Milan. Italy; 1927 - entered publishing; acquired four Italian magazines: Novella, Il Secolo Illustrato, La Donna and Commedia; 1929 - entered book publishing; began publication of Italy's most monumental editorial project, Treccani Encyclopaedia; October 1984 - acquired by Generale Mobiliare Interessenze Azionarie (Gemina S.p.A.) investment group, unit of Fiat; June 18, 1992 - Gemina raised stake in its Rizzoli Corriere della Sera Editori subsidiary to 88% (acquired 8.11% stake from Hachette for $74.2 million); 1997 - spun off within Holding di Partecipazioni Industriali (Hdp) in which Agnelli interests have controlling stake; 2003 - name changed to Rizzoli Corriere della Sera MediaGroup SpA (RCS Media Group).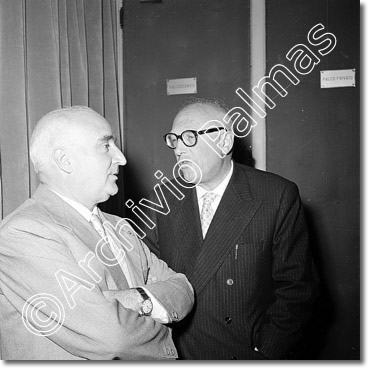 Angelo Rizzoli (left) - Rizzoli Publications (http://www.fotopalmas.com/Nenni_Pietro/RM23483.jpg)
Rohm & Haas - 100th Anniversary: September 1, 1909 - Otto Haas established U.S. branch office in Philadelphia to sell Oropon, leather bate to tanners (had established partnership with Chemist Otto Röhm in 1907 in Esslingen, Germany); 1915 - Rohm received German patent for polyacrylic ester as paint binder; April 24, 1917 - Rohm and Haas incorporated; sales about $1 million; 1924 - Haas, Karl Albert Company established Resin Products Company to market synthetic resins for fast-drying varnishes; introduced Lethane, synthetic organic insecticide, first product developed in its own laboratories; 1935 - acrylic chemistry - developed small-molecule chemistries, acrylic products; introduced cast polymethyl methacrylate, plexiglas (optical clarity, light weight, shatter resistant, ability to withstand heat); 1940-1949 - sales multiplied nine times; 1953 - introduced acrylic emulsions for use as paint binders; birth of latex paints, waterborne textiles, non-woven finishes; March 27, 1956 - registered "Plexiglas" trademark first used June 5, 1935 (plastic sheets, both colored and uncolored, fir interior and exterior constructional purposes); 1960 - Fritz Otto (son) became CEO; 1962 - introduced zinc, magnesium agricultural fungicide; 1970 - Haas family direct control ended (otto's retirement); 1982 - entered electronic chemicals market, acquired 30% interest in Shipley Company (photoresists used in etching chips, microcircuits; acquired full control in 1992); 1990s - sold polymethyl methacrylate franchise (commodity, non-specialty chemical); 1997 - acquired minority interest in Rodell Inc. (chemical slurries, polishing pads); 1999 - acquired LeaRonal Inc. (specialty chemical additives in electronic, metal finishing); merged with Morton International; world's largest specialty-chemical company ($6.5 billion in sales, leader in adhesives, specialty coatings, electronic materials, salt); 2006 - annual sales of $8.2 billion; July 10, 2008 - agreed to be acquired by Dow Chemical, largest U.S. chemicals company (sales of $54 billion) for $18.8 billion in deal part funded by Warren Buffett, Kuwait sovereign wealth fund (at 74% premium to Rohm and Haas's closing share price on July 9).
Dr. Otto Rohm (http://www.plastiquarian.com/ images/people/rohm.jpg)
Otto Haas (http://www.chemistry.msu.edu/ Portraits/images/haas2c.jpg)
Smith Dairy Products Company - 100th Anniversary: January 1, 1909 - John J. and Peter Schmid (brothers) used $500 they had saved, $300 they borrowed from neighbor, bought two horses, two wagons, some milk bottles, cans, dippers, hand-cranked freezer to begin daily deliveries to Orrville, OH homes; customers called them "Smith" brothers, easier to pronounce than Schmid; established Smith Dairy Products Company; June 24, 1997 - Smith Dairy Products Company registered "Smith's The Dairy in the Country" trademark; 2009 - still family owned; Steve and John Schmid (grandsons) as president, vice president, respectively; manufactures full line of quality dairy, beverage, ice cream, foodservice products.
John, Peter Schmid - Smith Dairy Products Company (http://www.smithdairy.com/images/earlyyears-2.gif)
Snyder's of Hanover - 100th Anniversary: 1909 - Harry V. Warehime, founder of Hanover Canning Company, began producing Olde Tyme Pretzels for Hanover Pretzel Company; 1924 - William and Helen Snyder opened first pretzel bakery with sons Edward and Bill; 1963 - Hanover Brands acquired Snyder's family distribution company, recipe for Sourdough Hard Pretzels from Pretzel Baker Bill Bechtel; 1977 - company focused on pretzels and potato chips as core products; 1981 - Snyder's became independent of Hanover Foods Corporation.
Special Libraries Association - 100th Anniversary: July 2, 1909 - Group of librarians who thought that libraries serving business, government, social agencies, parts of academic community were different from other libraries formally organized Special Libraries Association (SLA), complete with Constitution; laid foundation for present structure of Divisions representing different subject fields or special types of organizations; committees established to consider problems of agricultural libraries, commercial associations, insurance libraries, legislative and municipal reference libraries, membership libraries, public utility libraries, sociological and technical libraries; John Cotton Dana was first president; November 5, 1909 - first conference of new association held in New York City (approximately 40 members participating); April 1910 - Special Libraries magazine (monthly) contained first directory of special libraries (23 subject fields); 1916 - editor Dr. John A. Lapp defined "the basic purpose of the special library, namely to put knowledge to work"; 2008 - principal association for information professionals, their strategic partners throughout world (11,000 members from 75 nations).
John Cotton Dana - first president, Special Libraries Association (http://www.libraries.rutgers.edu/rul/libs/dana_lib/smdana.gif)
Suzuki - 100th Anniversary: 1909 - Michio Suzuki founded Suzuki Loom Works in Hamamatsu, Shizuoka Prefecture Japan; 1920 - reorganized as Suzuki Loom Manufacturing Co. to produce textile looms; 1952 - created motorized bicycle, Power Free, featured 36cc, two-stroke engine; 1954 - name changed to Suzuki Motor Corporation; 1955 - introduced first mass-produced car, Suzulight; March 23, 1971 - Suzuki Motor Co., Ltd. registered "Suzuki" trademark in U. S. first used October 15, 1963 (motorcycles); 1981 - General Motors acquired 5% of Suzuki shares; 1985 - American Suzuki Corp. introduced Samurai in U.S.; 1998 - GM increased ownership to 10%; 2001 - GM's ownership rose to 20.4%; 2004 - General Motors and Suzuki Motor Corp. acquired bankrupt Daewoo; March 2006 - GM divested, sold 92.36 million shares, reduced stake to 3%, raised $2 billion. Suzuki still owns 11% of GM Daewoo Auto and Technology.
Michio Suzuki - Suzuki Motor Corp. (http://www.motorhelmets.net/pics-index/michio-suzuki.jpg)
Tamales Bay Oyster Company - 100th Anniversary: 1909 - M. B. Moraghan obtained permit for harvesting oysters from Tomales Bay (entered trade in oysters from Shoalwater Bay, Washington in 1868, introduced Pacific oysters to San Francisco in 1896; planted oyster beds in Tamales Bay and founded Tomales Bay Oyster Company in 1906); 1936 - last commercial oysters harvested from San Francisco Bay; Company acquired by Gretchen and Drew Alden, partners; 2009 - acquired by Tod Friend, owner of Marshall (CA) Store since 2006; California's oldest continuously run shellfish farm; oysters, mussels, clams - $2.6 million business in Marin County (4% of county's $67 million agricultural yield, according to Marin County Department of Agriculture).
Universal Pictures - 100th Anniversary: April 12, 1909 - Carl Laemmle established Independent Motion Picture Company (IMP); defied Motion Picture Patent Company; fought more than 280 lawsuits from Patent Company; June 8, 1912 - Laemmle (Independent Motion Picture Company), Pat Powers (Powers Picture Company), Mark Dintenfass (Champion Films), Bill Swanson (American Éclair) merged studios, formed Universal Motion Picture Manufacturing Company; 1925 - name changed to Universal Pictures Company, Inc.

Carl Laemmle -founder Universal (http://www.filmsite.org/ history/laemmle.jpg)
Williams' Book Store - 100th Anniversary: 1909 - E.T. Williams, fresh off boat from Wales, opened Williams' Book Store in San Pedro, CA; 1940 - Ethel Williams-Smith (daughter) took over; B. Dalton, Crown Books, Borders Books, Bookstar opened in more affluent Palos Verdes peninsula; 1980 - store turned over to Anne Gusha (customer since 1928, as child); 1990s - downtown San Pedro began to revive (artists flocked to area, new restaurants opened); walk-in traffic increased; book signings on first Thursday of each month launched (art galleries had open houses); chain stores moved out (B. Dalton closed San Pedro/Palos Verdes store; 1999 - Crown Books filed for bankruptcy; Bookstar decided not to renew lease; Williams only first-run bookstore in area; 2000 - revenues of $170,000 (projected $240,000 in 2002); outlasted two world wars, recessions, determined runs by three big-chain competitors; oldest, independent, continuously operating seller of new books in Los Angeles.
Friendly's Ice Cream - 75th Anniversary: 1935 - Prestley Blake (20) and Curtis Blake (18) co-founded Friendly Ice Cream shop in Springfield, MA with $547 borrowed from their parents; double dip cones for $0.05; 1989 - name changed to Friendly's
Curtis and Prestley Blake - Friendly's (http://www.boston.com/business/ticker/PrestleyBlake.jpg)
Central Soya - 75th Anniversary: October 2, 1934 - Dale W. McMillen incorporated Central Soya Company in Decatur, IN (livestock feeds and soybeans); June 1985 - acquired by Shamrock Holdings Inc. (privately owned by Roy E. Disney family); October 1987 - acquired by Ferruzzi Finanziaria SpA in Ravenna, Italy; October 2002 - acquired by Bunge Limited.
Donald Duck - 75th Anniversary: June 9, 1934 - Donald Duck made first film appearance in "The Wise Little Hen", short by Walt Disney; September 16th, 1934 - first Donald Duck comic book (story by Ted Osborne, art by [Charles] Al Taliaferro).
Donald Duck - 1934 ((http://static.squidoo.com/resize/squidoo_images/-1/lens2103006_1217735441wise-little-hen-donald-duck.PNG)
General Cinema - 75th Anniversary: 1935 - Philip Smith built first drive-in theater outside Detroit; 1949 - more than 20; 1951 - operated first shopping-center theatre, Framingham Cinema, in Framingham, MA; 1960 - went public; 1961 - Richard Smith (36) took control; renamed General Cinema Corporation; 1964 - name changed to General Cinema Corporation; 1967 - owned about 100 shopping-center theaters; 150 theaters in 26 states; 1968 - entered soft-drink business; became largest independent Pepsi bottler in U. S.; June 2, 1987 - 60% owner of The Neiman Marcus Group, Inc., (spun off by Carter Hawley Hale in response to second hostile takeover attempt by The Limited); 1989 - sold Pepsi bottling operations; November 1991 - acquired Harcourt Brace Jovanovich; 1993 - renamed Harcourt General, Inc.; 1999 - spun off remaining stake in Neiman Marcus Group to shareholders; October 2000 - GC Cos. Inc., parent of General Cinema, filed for bankruptcy protection (overbuilding of of multi-screen "megaplex" cinemas, weak movie releases).
Porky Pig - 75th Anniversary: March 2, 1935 - Porky Pig, designed by animator Bob Clampett, debuted in short "I Haven't Got a Hat"; name came from two brothers who were childhood classmates of director Fritz Freleng (nicknamed "Porky" and "Piggy); originally played by Joe Dougherty (actually had stuttering problem); 1937 - Mel Blanc won audition for character.
Ritz Crackers/strong> - 75th Anniversary: 1935 - Nabisco launched Ritz Crackers in US; January 5, 1937 - National Biscuit Company registered "Ritz" cracker trademark: first used November 1, 1934 (bakery products-namely biscuit).
TTrader Vics - 75th Anniversary: 1934 - Victor Jules Bergeron, Jr., son of waiter at San Francisco's Fairmont Hotel and owner of grocery store on San Pablo Avenue in Oakland, CA, used nest egg of $700, carpentry help from his wife's brothers, his mother's pot-bellied stove and oven, built small pub across street from store, named Hinky Dink's; served potent tropical cocktail concoctions, delicious Americanized adaptations of Polynesian food; became one of most popular watering holes in Northern California's Bay Area; 1936 - Herb Caen, columnist for San Francisco Chronicle, wrote "best restaurant in San Francisco is in Oakland"; Vic had become "The Trader", Hinky Dink's became "Trader Vic's", complete with showpiece Chinese oven; January 7, 1941/strong> - Esther O. Bergeron registered "Trader Vic's" trademark first used March 1, 1938 (rums); 1944 - created original Mai Tai, refreshing rum cocktail; 1951 - Trader Vic's San Francisco opened; eventually opened 25 Polynesian-style restaurants around world; Lynn Bergeron (son) took over restaurant operation, remains Chairman Emeritus of Trader Vic's Restaurant Company.
Victor J. "Trader Vic" Bergeron - Trader Vic's (http://www.tradervics.com/images/rest-trader.jpg)
Vermont Ski Lift Technology - 75th Anniversary: sampling of the very first of several types of ski lifts used in Vermont from 1934 to the present (believed to the one of the actual lifts from the ski area in which it was first installed in the State) http://www.vermontskimuseum.org/exhibits.htm
Wizard of Oz - 75th Anniversary: January 26, 1934 - Samuel Goldwyn bought film rights to The Wonderful Wizard of Oz by L. Frank Baum; 1939 - released 101 minute film; 1956 - estimated 45 million people tuned in to watch movie debut on television; 1998 - ranked sixth in American Film Institute's poll of America's 100 Greatest Movies.
Center for Research in Securities Prices - 50th Anniversary: 1960 - James Lorie, Lawrence Fischer (University of Chicago Graduate School of Business), with a grant of $ 300,000 from Merrill Lynch, established Center for Research in Securities Prices (CRSP) at University of Chicago (Fischer originated structure of CRSP Master File; 1964 - completed stock market database (estimated to contain between 2-3 million pieces of information); allowed average rate of return on common stocks to be measured for first time (9% on NYSE-listed stocks); enabled rigorous empirical analysis of stock prices, investment theories; allowed maintenance of accurate securities information over time; 1984 - added data from NASDAQ markets (from December 1972); mid 1990s - created only complete database available containing active, inactive mutual funds; 2005 - released CRSP/Ziman Real Estate Data Series (with Ziman Center at the Anderson School of Business of UCLA); 2006 - released Pre62 database (contained daily data from 1926 - 1962 vs. only monthly data previously available).
Domino's Pizza/strong> - 50th Anniversary: 1960 - Tom Monaghan and his brother James borrowed $500 to buy "DomiNick's," a pizza store in Ypsilanti, MI; 1961 - James trades his half of the business to Tom for a Volkswagen Beetle; 1965 - Tom Monaghan is sole owner of company, renamed business "Domino's Pizza, Inc." 1967 - first Domino's Pizza franchise store opened in Ypsilanti, MI; 1968 - first Domino's store outside of Michigan opened in Burlington, VT; 1978 - 200th Domino's store opened; August 25, 1981 - Domino's Pizza, Inc. registered "Domino's Pizza" trademark first used February 1965 (Rendering Technical Assistance in the Establishment and Operation of Stores Exclusively Engaged in the Baking and Delivering of Hot Pizza Pies Made to Order for Consumption Off the Premises); 1983 - 1,000th Domino's store opened; 1985 - opened 954 units, for a total of 2,841; Domino's fastest-growing pizza company in country; 1989 - Domino's opened 5,000th store; 1990 - Domino's Pizza signed its 1,000th franchise; 1998 - Monaghan retired, sold 93% of Company to Bain Capital, Inc.; 1999 - worldwide sales exceed $3.36 billion.
Hardees/span> - 50th Anniversary: September 3, 1960 - Wilbur Hardee founded Hardee's restaurant chain with drive-in hamburger stand near East Carolina University campus in Greenville, NC; no tables, no waiters, 15-cent fresh-ground, lean beef burger made to order on custom-build charcoal broiler; May 5, 1961 - Jim Gardner, Leonard Rawl to opened first Hardee's franchise restaurant in Rocky Mount, NC; November 20, 1962 - Hardee's Food Systems, Inc. registered "Hardee's" trademark first used October 21, 1961 (restaurant services); 1963 - went public; introduced pagoda-style building; Hardee lost 51% controlling interest in company in card game with Gardener, Rawl; sold remaining stake for $37,000; March 8, 1966 - Hardee's food Systems, Inc. registered "Hardee's L'il Chef" trademark first used April 7, 1963 (restaurant services); 1981 - acquired by Imasco Ltd. (Canadaian conglomerate); became nation's fourth-largest burger quick-service restaurant chain; 1997 - acquired by Carl's, Jr. (became CKE Restaurants, Inc.); 2008 - 1,900 Hardee's across Midwest, Southeast, 200 international locations.
Reuben Mattus - Haagen Dazs (http://msnbcmedia.msn.com/j/msnbc/components/photo_storylevel/080623/080623-obit-hardee-vsmall5p.rp98x98.jpg)
Fantasticks - 50th Anniversary: May 3, 1960 - Musical comedy, The Fantasticks, opened in off-Broadway playhouse in New York's Greenwich Village; became longest-running musical of all time; May 2000 - 15,562 performances, producers' initial $16,500 investment had earned $3 million.
OPEC - 50th Anniversary: September 14, 1960 - Iran, Iraq, Kuwait, Saudi Arabia, Venezuela formed OPEC (Organization of Petroleum Exporting Countries), as a permanent, intergovernmental Organization, at Baghdad Conference on September 10–14, 1960; later joined by: Qatar (1961); Indonesia (1962); Socialist Peoples Libyan Arab Jamahiriya (1962); United Arab Emirates (1967); Algeria (1969); Nigeria (1971); Ecuador (1973–1992), Gabon (1975–1994); objective: to co-ordinate, unify petroleum policies among Member Countries, to secure fair and stable prices for petroleum producers; efficient, economic, regular supply of petroleum to consuming nations; fair return on capital to those investing in industry.
Mattel - 50th Anniversary: March 9, 1959 - Barbie doll debuted at New York Toy Fair (3-dimensional doll little girls could play with; created by Ruth Handler, founder of Mattel, based on cartoon doll, named Bild Lilli, she saw on trip to Germany; used her daughter's nickname; December 1, 1959 - Mattel Incorporated registered "Barbie" trademark first used May 9, 1958 (doll).
Barbie - 1959 (http://images.businessweek.com/ss/06/07/barbie/image/2.jpg)

Motown Records -

50th Anniversary

:

January 12, 1959 - Berry Gordy, Jr. borrowed $800 from his family's loan fund, incorporated Tamla Records; first signed act was The Matadors, group he had written and produced songs for; changed their name to The Miracles when signed them; Miracles lead singer Smokey Robinson became vice president of company (November 4, 1957 - quit $85/week upholstery trimmer's job at Lincoln-Mercury assembly line in Detroit to become full-time songwriter; hit pop charts for first time with Jackie Wilson's "Reet Petite"); January 1960 - Motown moved headquarters into house in Detroit; "Hitsville U.S.A." sign hanged outside; basement made into studio; April 1963 - Mary Wells's song "You Beat Me to the Punch" first Motown record to receive Grammy nomination; December 28, 1965 - Motown Record Corporation registered "Motown" trademark first used April 30, 1960 (phonograph records); 1966 - produced 14 songs that reached Top 10; January 25, 1968 - Marvin Gaye's "Heard It Through the Grapevine" No. 1 on charts for seven weeks, longest run of any Motown single to that time; 10 singles in 1968 in Top 10; 1971 - 11 singles reach Top 10; August 1978 - The Commodores's song "Three Times a Lady" first Motown recording to register No. 1 on pop, R & B, adult contemporary charts at same time ; January 1987 - Lionel Ritchie first Motown artist to record country music hit with "Deep River Woman"; June 1988 - acquired by partnership between MCA, Boston Ventures (now subsidiary of Universal Motown Records Group, itself a subsidiary of Universal Music Group).
Berry Gordy - Motown Records (http://msnbcmedia4.msn.com/j/ap/ny11102232215.vsmall.jpg)
National Semiconductor - 50th Anniversary: May 27, 1959 - Dr. Bernard Rothlein, seven former engineers of Sperry Rand Corporation founded National Semiconductor in Danbury, CT; 1961 - first profit of $38,222 on $2.97 million in sales.; 289 employees shipped 85% of all transistors to military accounts; 1967 - moved to Santa Clara, CA; 1975 - one of first major electronics companies to enter toy, game market; 1981 - sales totaled $1.1 billion, net earnings of $52.4 million; 1987 - acquired Fairchild Semiconductor; 1993 - sales total $2 billion, earnings of $130.3 million; 1997 - acquired Cyrix, manufacturer of microprocessors, for about $540 million; sold Fairchild; 1999 - sold most of Cyrix's assets for less than $200 million; 2004 - sales of $1.98 billion, income just shy of $283 million.
National Semiconductor - founders (http://www.national.com/company/pressroom/images/founders.jpg)
Ronnie Scott's Jazz Club - 50th Anniversary: October 30, 1959 - Tenor saxophonist Ronnie Scott (born Ronald Schatt), tenor saxophonist Pete King opened Ronnie Scott's Jazz Club (capacity 90, no liquor license) in basement at 39 Gerrard Street, in London's Soho, with small loan from Scott's stepfather, to provide place where British jazz musicians could jam (had helped to open co-operative Club Eleven in Soho on December 11, 1948, country's first club devoted solely to modern jazz); opening night - Scott himself, Tubby Hayes Quartet, Jack Parnell, alto saxophonist Peter King; quickly developed reputation of bringing best of British modern jazz musicians to club; persuaded Musicians' Union ban on American visiting jazz musicians to lift blanket ban on American performers in U.K. (dated from 1932, classical music and vocalists exempt; had isolated UK from New York's post-war modern jazz revolution; embargo relaxed, at concert level, in 1958, provided British musicians played reciprocal gigs in America); 1961 - Zoot Sims, personal favourite of owner, first major American artist to play there (British saxophonist Tubby Hayes went to New York's Half Note for month's residency); first time American jazz musician had officially played in British jazz club for nearly 30 years; 1965 - moved to current location in Frith Street; June 2005 - acquired by theatre impresario Sally Greene (Old Vic management); London's foremost jazz venue (same level as New York's legendary Village Vanguard).
Ronnie Scott - Ronnie Scott's Jazz Club
(http://www.jazzphotography.us/images/musicians/ronnie_scott.JPG)
Sharp Electronics Trademark - 50th Anniversary: October 8, 1959 - Hayakawa Electric co., Ltd. registered "Sharp' trademark in U.S. first used January 17, 1931 (electric shavers); 1970 - name changed to Sharp Corporation (company established September 15, 1912 by Tokuji Hayakawa (19) leased house in center of Tokyo, set up small metalworking shop with 50 yen, 2 employees; produced snap buckle for Western style pant belts).
Tokuji Hayakawa - founder Sharp Electronics (http://sharp-world.com/corporate/info/his/voice/images/hayakawa.jpg)
Sorel - 50th Anniversary: 1959 - Kaufman Rubber Co. (founded in 1907 by Jacob Ratz Kaufman in Berlin, ON) introduced Sorel line of winter sport/work boots, became most successful product; August 17, 1971 - Kaufman Footwear Limited registered "Sorel" trademark first used in 1959 (sport boots and work boots); 1973 - William H. Kaufman (grandson) became Chairman; name changed to Kaufman Footwear Inc.; 1979 - Kaufman Footwear became Kaufman Footwear, division of William H. Kaufman Inc.; 1997 - Tom Kaufman (great grandson) named president; 2000 - Kaufman Footwear declared bankruptcy; Sorel brand acquired by Columbia Sportswear Company.
Apple Macintosh - 25th Anniversary: January 24, 1984 - Apple Inc. introduced the original Macintosh at Flint Center at De Anza College in Cupertino, CA (on heels of January 22, 1984 Super Bowl XVIII commercial, by film director Ridley Scott, that featured a lone runner defeating Big Brother - IBM); first personal computer to draw masses, introduce mouse, incorporate graphical user interface, relying on images instead of text; named by Jef Raskin, Apple employee who created the project, after his favorite kind of apple, McIntosh (had to change name for legal rights); came with 128 kilobytes of RAM (later became known as Macintosh 128K), featured 8 MHz Motorola 68000 microprocessor, 9-inch black and white CRT screen, 400 kB, single-sided 3.5-inch floppy disk drive; priced at $2,495 (over $5,000 in today's dollars); made available to the public two days after a $1.5 million commercial, made by Ridley Scott, wowed audiences during Super Bowl XVIII; titled "1984," it invoked author George Orwell's message and stood as a warning against conformity.
Apple Macintosh computer (http://library.stanford.edu/mac/primary/images/gartner/hello.jpg)
Making the Macintosh: Technology and Culture in Silicon Valley http://library.stanford.edu/mac/ "Making the Macintosh" is an online project documenting the history of the Macintosh computer. It features extensive original materials from the Stanford University Library's Department of Special Collections, the personal papers of engineers and technical writers involved in the Macintosh project, and interviews with many significant players from the 1960s and '70s conducted for the project. The Macintosh stands at a cusp in the history of computing and Silicon Valley: it brought together (and sometimes transformed) a number of technical and conceptual threads in computing that developed in the 1960s and 1970s, but it also was responsible for sparking new movements in computing. This project collects and publishes primary material on the Macintosh's development and early reception.
Chevron - 25th Anniversary: 1984 - Standard Oil Company of California merged with Gulf Oil; largest corporate merger in U. S. history at time; name changed to Chevron Corp.