December 14, 1656 - Frenchman Jacquin, rosary-bead maker, first manufactured modern-day imitation pearls; coated inside surface of hollow glass bead with mixture made of fish scales.
June 16, 1657 - Christiaan Huygens received a patent for the first pendulum clock; needed time accuracy for his astronomical measurements;
October 4, 1675
- received patent on a pocket watch.
1755 - Jean-Marc Vacheron opened watch workshop in Geneva, Switzerland; 1770 - created 'complication' watches; 1779 - first engine-turned dials ; 1812 - first production of six quarter-repeater watches (strike hours and quarters on request); 1819 - Jaques-Barthélemy, grandson of Jean-Marc Vacheron, and François Constantin created company name "Vacheron et Constantin"; 1880 - company adopted the Maltese cross as new logo; December 17, 1903 - Wright brothers wore watch housing a calibre by Vacheron Constantin; 1996 - acquired by The Richemont group, a luxury goods holding company (created in 1988 by spin-off of international assets owned by Rembrandt Group Limited of South Africa); oldest watch manufacturing company boasting uninterrupted operation since its founding.
1764 - King Louis XV of France gave Bishop de Montmorency-Laval of Metz permission to found a glassworks in the village of Baccarat located in Lorraine in eastern France; November 15, 1816 - first crystal oven went into operation; 1823 - King Louis XVIII commissioned a set of stemware (first royal commission).
1765 - Johannes Franz Hirsch opened leather workshop in Lower Austria; craftsmen made shoe, saddle leather in small tannery; 1945 - Hans Hirsch began to work leather remainders obtained from the local shoe industry in Klagenfurt into bracelets for watches; Hermann Hirsch (son) began to market small "bracelet" products in world; 1955 - produced, received patent for seamless bond between upper leather, lining leather; manual of Swiss Watch Federation adopted HIRSCH Rembordier technology; set standard for worldwide watch bracelet industry; 1957 - Hermann Hirsch (grandson) joined company; 1960 - sales exceeded €1 million for first time; 1961 - invented HIRSCH vending machine (designed by Professor Hollein), revolutionized sales of bracelets for watches; bracelet ranges visibly presented to customer in sales room for first time; 1970 - 130 employees; company developed from production-oriented business to international partner in specialized trade; 1990 - produced 100th million bracelet for a watch; 640 employees; 2003 - became main supplier to Swiss luxury watch industry; 2005 - acquired from Hermann Hirsch by Robert Hirsch (son); Hirsch Armbander GmbH.
1775 - Abraham Louis Breguet (A. L.) Breguet set up a business on the Quai de l'Horloge, Ile de la Cite, Paris, France; 1780 - first self-winding watches introduced.
October 6, 1783 - Connecticut General Assembly granted exclusive rights (14-year patent) to Benjamin Hanks to sell clocks wound by air (self-winding clock).
November 17, 1797 - Eli Terry (Henry Ford of clocks) of East Windsor, CT received first U. S. patent for "Time Keepers, and Watches"; an equation clock with two minute hands (one for mean or true time, other for apparent time as divided by the sun); introduced wooden geared clocks; developed ways to produce inexpensive household wooden clock works by machine.
February 8, 1802 - Simon Willard, of Grafton, MA received a patent for a "Time Piece"; eight-day wall clock, came to be known as "banjo clock"; small inexpensive clock that could be purchased by less affluent citizens of new democracy.
1807 - Seth Thomas joined Eli Terry, Silas Hoadley in business of making clocks at wholesale rate, named Terry, Thomas & Hoadley; 1810 - Thomas, Hoadley acquired Terry's interest; 1812 -Thomas sold his share of company, founded clock factory in Plymouth Hollow, CT; 1814 - acquired rights to manufacture popular shelf clock from Hoadley; built mill for rolling brass, making wire; 1853 - "Seth Thomas Clock Company officially incorporated; 1866 - Plymouth Hollow renamed Thomaston to honor clock maker; October 12, 1926 - registered "Seth Thomas" trademark first used 1813 (clocks); 1931 - became division of General Time Instrument Co.; 1949 - became division of General Time Corp.; 1970 - became division of Tally Industries; America's oldest clockmaker.
1814 - Edward J. Dent established E. J. Dent, constructed Standard Astronomical Clock for Admiralty; 1830 - formed partnership with John Roger Arnold, leading chronometer-makers in London, named Arnold & Dent; 1831- chronometer no. 633 taken aboard H.M.S. Beagle by Charles Darwin; 1836 - received patent for "Improvement in the Balance Springs of Chronometers, and in their adjustments"; 1840 - partnership ended, established Edward J. Dent; 1843 - appointed Chronometer Maker to Emperor of Russia; 1846 - received patent for "The Keyless", first watch that could be wound, set at crown, dispensed with use of key, became most widely reproduced, applied contribution to advancement of watch making; 1853 - renamed Frederick Dent; 1859 - delivered Great Clock of Houses of Parliament, "Big Ben", installed, put into service; 1863 - appointed Watch and Clock Makers to HRH Prince of Wales by Special Warrant; 1871 - manufactured Standard Clock at Royal Observatory, Greenwich, England ("Greenwich Mean Time"); 1876 - registered Dent trademark, triangle, in response to reports of inferior imitators, appeared on back of all watches, clocks from that time on; 1880 - His Majesty Emperor Mejii granted Royal Warrant; 1904 - Shah of Persia granted Royal Warrant; 2008 - launched first range of wrist watches for 40 years.
1830 - Louis Victor and Pierre-Joseph-Celentin Baume founded "Freres Baume", one of first comptoirs horlogers (watch shops) in Swiss Jura region in village of Les Bois; 1876 - Alcide Baume, Arthur Baume (sons) took over; set up branches in Geneva, Switzerland and Philadelphia, PA; 1885 - first competed in Kew Teddington competition: three watches ranked among top seven in timekeeping competitions; 1886 - four watches won timekeeping awards; 1892 - earned highest score (91.9 points out of 100) with split-second chronograph; 1918 - partnered with Odessa, Russia-born man, named Tchereditchenko (subsequently adopted his French mother's family name, became known as Paul Mercier); established full-fledged watch manufacture in Geneva, made top-quality watches, movements that were exported to United States; Baume handled technical aspects, Mercier was in charge of design, commercial side of business; 1935 - Baume withdrew from company for health reasons; 1937 - Mercier's interest acquired by Ponti family (famous jewelers, goldsmiths from northern Italy); April 23, 1957 - Baume & Mercier Societe Anonyme registered "Baume & Merceier" trademark (watches, watch cases, watch movements); 1964 - reinforced brand identity, chose Greek symbol PHI as new visual brand emblem ("golden section" represented perfect proportions); 1971 - one of the first brands to adopt new electronic tuning-fork movements (forerunner of quartz) in Tronosonic model; 1988 - Piaget and Baume & Mercier acquired by luxury group that would later become Richemont Groupe.
1832 - Auguste Agassiz established partnership with a watchmaking counter in Saint-Imier, Switzerland; renamed "Agassiz & compagnie" (assembled watches according to "établissage" method, with people working at home); 1850s - Ernest Francillon (nephew) took over; 1866 - purchased two adjoining plots of land, called "Les Longines", on right bank of river Suze in Saint-Imier valley to group different operations in one factory, use mechanical production methods to assemble, finish complete watches; 1867 - introduced winged hourglass logo, "Longines" name; 1880 - A. Wittnauer Co. became exclusive sales agent for Longines (until 1994); September 10, 1907 - A. Wittnauer Co. registered "Longines" trademark" in U.S., first used in 1869 (watches, parts of watches, and watchcases); 1911 - factory employed more than 1,100 people, watches distributed around world; 1919 - official supplier to FAI, World Air Sports Federation; 1994 - acquired by SMH Swiss Corporation for Microelectronics and Watchmaking Industries Ltd. (renamed Swatch Group in 1998), world's leading producer of watches, associated products
September 10, 1832 - Joseph T. Bailey and Andrew B. Kitchen opened Bailey & Kitchen Co. in Philadelphia with $4,100 in the bank, $28 worth of jeweler tools; one of first firms in America to introduce silver of full British standard (925-1000 as opposed to lower American standard of 900); November 18, 1846 - Kitchen retired, Eli Wescott Bailey (brother) joined firm, along with partners Jeremiah Robbins and James Gallagher; name changed to Bailey & Co.; 1851 - Joseph Bailey II (son) joined; 1866 - Joseph Bailey II assumed control; March 1, 1878 - new partnership established with George W. Banks (J.E. Caldwell & Co.) and Samuel Biddle (Robbins, Biddle & Co.), as well as special partners Eli Bailey, Clayton French; name changed to . Bailey Banks & Biddle; March 1894 - incorporated, name changed to Bailey Banks & Biddle Co.; January 27, 1904 - die for the Great Seal of the United States, commissioned by United States government, first used (engraved on hardened steel); 1904 - commissioned by United States government to produce what would become known as the 'Congressional Medal of Honor'; February 22, 1932 - Herbert Hoover revived Purple Heart medal (established by George Washington in New York on August 7, 1782), commission awarded to BBB, produced 40,000 Purple Hearts; designed military's Silver Star by an Act of Congress; October 2, 1961 - acquired by Zale Corporation; 1986 - design for the Great Seal declared the official, final version; September 27, 2007 - agreed to be acquired for $200 million by Findlay Enterprises Inc. (70 retail locations in 24 states).
September 18, 1837 - Charles Lewis Tiffany, John B. Young established Tiffany & Young at 259 Broadway at Warren Street in New York City; sold stationery, soap, parasols, jewelry, novelties; prices of all goods marked "non-negotiable" - revolutionary pricing policy; first day's sales = $4.98; blue box introduced; 1841 - J. L. Ellis joined Tiffany & Young; name changed to Tiffany, Young & Ellis; 1845 - introduced "Blue Book" catalogs; 1847 - moved to larger building at 271 Broadway, on southwest corner of Chambers Street; 1851 - became first American company to introduce use of English sterling standard (92.5% silver) in American-made silver (through contract with John C. Moore, holloware silversmiths); 1853 - Young and Ellis retired; name changed to Tiffany & Co., located at at 550 Broadway, between Prince and Spring Streets; 1868 - acquired Moore (Edward C. Moore, son, president); became silver manufacturer and retailer; 1869 - introduced first flatware pattern; 1870 - new building opened at 15 Union Square West (cast-iron facade, chosen for supposed fire resistance); September 5, 1893 - registered "Tiffany" trademark first used in 1868 (jewelry and watches, bronzes, silver and plated ware, and ornamental articles in metal); 1905 - moved to building at 401 Fifth Avenue (at 37th and Fifth Avenue); 1926 - United States adopted Tiffany's standard of purity for platinum (95%); October 21, 1940 - moved to building on Fifth Avenue at 57th Street; 1955 - acquired by Hoving Corporation (ownership passed from Tiffany and Moore families); 1979 - acquired by Avon Products, Inc.; October 1984 - acquired in leveraged buyout by group led by William R. Chaney; May 1987 - went public.
1842 - Gustav Faberge opened retail jewelry shop in basement shop in capital's fashionable Bolshaia Morskaia in St. Petersburg, Russia; 1882 - (Peter) Carl Faberge (son) took over; 1885 - Tsar Alexander III commissioned Easter Egg as gift for his wife, Empress Maria Fedorovna; completed 54 Imperial Eggs (for Alexander III, for Nicholas II to present to his mother); January, 5 1918 - board decided to liquidate Company (after Bolshevik revolution); June 29, 1943 - Samuel Rubin registered "Faberge" trademark in U. S., first used in 1936 (perfume); November 26, 1946 - registered Faberge trademark in U. S., first used in March 1940 (pearls, cultured pearls, jewelry for personal wear); Fabergé Family sued; 1951 - settled out of court for $25,000 with stipulation that Fabergé name used solely in connection with perfume; 1964 - acquired for $26 million by Rayette Inc., cosmetics company (George Barrie, creator of "Brut" line of men's cologne); name changed to Rayette-Fabergé Inc.; 1971 - name changed to Fabergé Inc.; 1984 - acquired McGregor Corp., men's and boys' clothing maker majority owned by Rapid American Corporation (Meshulam Riklis), for $180 million; name changed to McGregor Fabergé; May 1986 - ownership transferred to Riklis Family Corporation; 1989 - acquired by Unilever for US $1.55 billion; renamed renamed Elida Fabergé; 2001 - American subsidiary Lever Brothers merged with Elida Fabergé; formed Lever Fabergé; January 3, 2007 - acquired by Cayman Islands-based Fabergé Limited (majority-owned by consortium of investors advised by Pallinghurst Resources LLP, an investment advisory firm based in London, chaired by Brian Gilbertson, former CEO of BHP-Billiton plc, world's largest mining company); November 1, 2007 - Mark Dunhill, former President of Alfred Dunhill Limited, named CEO.
Peter Carl Faberge - House of Faberge
(http://upload.wikimedia.org/wikipedia/commons/b/b0/Karl_Gustavovich_Faberge.jpg)
December 7, 1845 - Ferdinand A. Lange opened workshop in Glashutte, Germany for production of pocket watches; received repayable loan of 7820 thalers from government of Saxony to train 15 young people from impoverished region; introduced metric system in watchmaking (simplified calculation of movement parts); 1868 - name changed to A. Lange & Söhne; Richard Lange (son) became co-owner; 1871 - Emil Lange (son) joined business; after World War I - third Lange generation (brothers Otto, Rudolf, Gerhard) took over; WW II - aerial bombing raid, destroyed manufacturing facilities, family business expropriated; December 7, 1990 (after border between East, West Germany fell in autumn 1989) - Walter Lange (fourth generation) founded company second time (145 years to day after great-grandfather's founding); 1994 - presented first collection of wristwatches.
1846 - Ulysse Nardin founded Ulysse Nardin Company in Paris; first watches exported to Central, South America through Paris go-between, Lucien Dubois (only customer for two years); February 20, 1876 - Paul-David Nardin (21) assumed control (at Ulysse death); December 20, 1890 - received Swiss patents (one for mechanism for chronometers which permits daily winding without reversing bowl); January 21, 1911 - received Swiss patent for perfected control mechanism for timing-wheel in chronographic timers (to eliminate uncontrolled leap of chronograph-wheel which could provoke errors difficult to detect); 1983 - acquired by Rolf W. Schnyde; awarded 18 international gold medals, 4,300 first prizes in chronometric excellence.
1847 - Louis-Francois Cartier took over jewelry workshop of his teacher, Adolphe Picard, in Paris; 1853 - opened to private clientele; 1859 - opened shop; 1899 - Alfred Cartier (son) moved to new premises; Louis, Pierre, Jacques Cartier (grandsons) manage business; 1900 - Louis Cartier adopted platinum/diamonds for garland-style jewelry; established platinum as legitimate, irreplaceable precious metal; 1902 - opened boutique in London; named official supplier to Court of Edward VII; 1909 - acquired Hope diamond from Salomon Habib (purchased in 1910 by Evalyn Walsh McLean, heiress to Washington Post); 1917 - Pierre Cartier bought Morton Freeman Plant (president of father's Southern Express Company) mansion (635 Fifth Avenue) for $100 and $1 million pearl necklace as gift to Mrs. Morton from husband; March 7, 1922 - Cartier, Inc. registered "Cartier" trademark (cigarette and cigar cases and snuffboxes); 1933 - Jeanne Toussaint ("the panther") named Director of Cartier High Jewellery; 1938 - introduced perfume holders; 1966 - launched Tank Francaise watch; 1968 - introduced luxury lighter; 1974 - re-introduced leather goods (with double C logo); 2001 - launched Cartier Art magazine.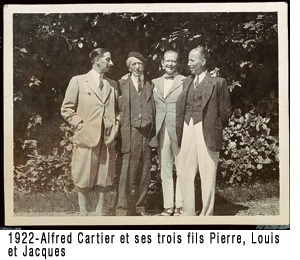 (http://www.fashions-addict.com/images/catalogue/id_1/images/6175_cartier.jpg)
1848 - Louis Brandt, set up assembly workshop in La Chaux-de-Fonds in Switzerland; assembled precision pocket watches from components delivered by local craftsmen; called "Bienne" watches - in their pockets; 1879 - Louis Paul Brandt and Cesar Brandt (sons) took over; January 1880 - renamed company "Bienne"; 1894 - introduced 'Omega' brand to Swiss public; 1903 - brothers died, four individuals took control; Paul Brandt (23, oldest of the four) inherited Brandt family name; 1930 - merged Swiss luxury watch brand, Tissot; formed SSIH (Societe Suisse pour l'Industrie Horlogerie) in Geneva, Switzerland; grew to over fifty other companies (including Lemania, Lanco, Hamilton); third largest producer of luxury watches, watch movements, in world; 1980 - merged with Swiss watch giant ASUAG (Swatch, Longines, Rado); formed ASUAG-SSIH company; taken over by private group; renamed SMH.
Louis Brandt - Omega (http://omegamoonwatch.com/images/lbrandt.jpg)
1851 - David Davis, Edward Howard, Aaron Lufkin Dennison formed American Horologe Co. in Roxbury, MA; September 1853 - name changed to Boston Watch Co.; October 1, 1854 - relocated to Waltham, MA; became Waltham Watch Company; May 1857 - bankrupt, acquired at auction by Royal E. Robbins, reorganized under name Appleton Tracy & Co.; January 1859 - merged with Waltham Improvement Co., formed American Watch Co.; 1885 - name changed to American Waltham Watch Co.; 1907 - name changed to Waltham Watch Co.; 1925 - name changed to Waltham Watch Company; 1957 - out of business; pioneer in American system of watch manufacturing; perfected process of mass production; made first watches with interchangeable parts, first 100% American-made watch; advanced machinery designed at Waltham Watch Company spread to other industries, led to America's industrial power.
1852 - George and Samuel Shreve opened The Shreve Shop, small jewelry shop, in San Francisco; designed, manufactured fine quality silver; 1894 - incorporated as Shreve & Co. (George Rodman, son of George Shreve, as president); 1967 - acquired by Dayton-Hudson Corporation; 1993 - acquired from Henry Birks Jewelers by Schiffman Jewelers (Greensboro, NC).
1853 - Charles-Félicien Tissot, Charles-Emile Tissot (son) established TISSOT, watch making company in Neuchâtel area of Jura Mountains, in Le Locle, Switzerland; 1930 - merged with Omega, formed SSIH; August 30, 1949 - Fabrique d'Horlogerie Chs, Tissot & Fils SA registered "Tissot" trademark in U. S. first used April 11, 1931 (watches, clocks, watch and clock movements, and parts thereof); 1985 - acquired by Swatch Group.
1856 - Constant Girard (founded Girare & Cie in 1852), Marie Perregaux (married her in 1854) established Girard-Perregaux Manufacture in La Chaux-de-Fonds, Switzerland; 1867 - manufactured Tourbillon ('whirlwind') watch (won Paris Universal Competition); 1903 - Constant Girard-Gallet (son) took over; 1906 - acquired Jean-François Bautte & Cie Company (established by Jean-Francois Bautte in 1791, formed by Jacques Bautte, son, Jean-Samuel Rossel, son-in-law in 1837); 1928 - acquired by Otto Graef (owned Manufacture Internationale de Nontres Or); 1930 - sales of wristwatches exceeded pocket watches for first time; March 21, 1950 - Jean R. Graef, Inc. registered "Girard-Perregaux" trademark first used June 15, 1929 (watch movements and watch and pocket watches); 1970 - set frequency of 32,768 Hz for quartz watches; became universal standard; 1992 - Luigi Macaluso took over; 1993 - signed co-branding agreement with Ferar; December 2004 - opened first boutique in Gstaad; 2007 - opened first boutiques in China; 2008 - 23% interest acquired by PPR Group (founded in 1963 by François Pinault).
March 5, 1857 - (Aaron) Benedict & (Gordon W.) Burnham Manufacturing Company formed Waterbury Clock Company to provide affordable timekeeping for working Americans; 1922 - acquired R. H. Ingersoll & Brother, major mail order firm; 1932 - reorganized as Ingersoll-Waterbury Company; 1933 - began production of Mickey Mouse comic character wristwatch (sold 2.5 million in two years); 1942 - acquired by Norwegian investors; 1944 - became known as U.S. Time Company, October 16, 1945 - United States Time Corporation (Waterbury, CT) registered "Timex" trademark first used November 7, 1944 (clocks and watches); 1950 - world's first inexpensive yet utterly reliable mechanical watch movement, called the Timex, debuted; November 1969 - company renamed Timex Corporation.

Aaron Benedict - formed Waterbury Clock, led to Timex (http://www.thelampworks.com/images/ b&b_aaron_benedict.jpg)

Gordon W. Burnham - formed Waterbury Clock, led to Timex (http://www.thelampworks.com/images/b&b_gordon_burnham.jpg)
1860 - Edouard Heuer (24) founded TAG Heuer, watch-making workshop in St. Imier, in Swiss Jura mountains.
1860 - Giovanni Panerai opened G. Panerai & Co., watch-making shop in Florence, Italy (Florence's first watchmaker); established reputation for making exquisitely crafted watches; Leon Francesco Panerai (son) took over; 1890 - Guido Panerai (grandson) joined business, started new venture named Guido Panerai and Figliothe; designed, manufactured high-precision mechanical instruments; 1900 - became navy's official supplier of optical, navigational mechanical devices; renamed Officine Panerai; early 1930s - Giuseppe and Maria Panerai (great grandchildren) took over; 1936 - completed Panerai Radiomir watch prototype (underwater watch that could withstand extreme conditions); 1949 - received patent for Panerai Luminor (replaced Radiomir); early 1990s - watches made available to public; 1997 - Panerai Company acquired by Richemont Group; Panerai watches made available internationally.
Giovanni Panerai - founder Panerai Company (http://www.horlogerie-suisse.com/marques/images/giovanni-panerai.jpg)
May 14, 1862 - Swiss watchmaker Adolphe Nicole patented chronograph, able to give split-second timing of sports events.
1865 - Georges Favre-Jacot established Fabrique des Montres Zenith workshop in Le Locle, Switzerland; built spacious, bright buildings, united all watchmaking professions under one roof for first time, enabled appropriate testing of all components, complete mechanism; 1899 - manufactured first pocket chronograph; 1911 - renamed Zenith; 1925 - 2000 employees; 1969 - launched 'El Primero', world's most precise series-produced movement (high-frequency, self-winding chronograph: only one to beat at 10 vibrations/second); 2000 - acquired by LVMH Group.
1866 - J. Wetherell and Son Jewelers opened at 417 Market St., Parkersburg, WV; Col. C.E. Morrison, Wetherell relative, second owner; 1944 - Ernest Whitehead began working at store; 1946 - combined with G.E. Smith Sons Jewelry; 1972 - Grand Central Mall opened, business started to decline; January 2011 - closed.
1867 - Watchmaker/optician Henry Conrad Warner founded Warner Company Jewelers; first store in Gilroy, CA; 1993 - 5-th generation-run company acquired by Casey Stephenson.
1867 - Josef Koepfer set up small workshop in father-in-law's house in Rößleplatz, Furtwangen; made horological tools; developed into company with milling cutters and tools for horological industry, machines to manufacture tools (specials for production of clock chains, multi-spindle drilling machines, machines for making of dial plates); 1890 - added gears for musical timepieces to product range; 1901 - four sons entered company, renamed "Jos. Koepfer & Söhne; 1955 - introduced model 150; 1970s-1980s - introduced new series of gear hobbing machines (153/173); 1986 - opened first production plant abroad; 2004 - KOEPFER Verzahnungswerkzeuge merged with IMS Gear Cutting Tools, formed IMS KOEPFER Cutting Tools GmbH; 2005 - KOPFER Group part of EMAG Group, Salach; 2008 - gear and transmission manufacturing sector operated under name KOEPFER Zahnrad- und Getriebetechnik GmbH.
Josef Koepfer - KOEPFER Verzahnungswerkzeuge (http://www.koepfer.com/uploads/media/firmengeschichte_01.png)
1875 - Joseph Bulova (23), immigrant from Bohemia, opened small jewelry shop on Maiden Lane in New York Cit, 1911 - began selling clocks and fine watches; 1923 - name changed to Bulova Watch Company, Inc.; 1928 - introduced world's first clock radio; 1979 - acquired by Lowes Corp.; 1988 - name changed to Bulova Corporation; October 4, 2000 - "Bulova Day" in New York City to honor company's 125th anniversary.
Joseph Bulova - Bulova Watch (http://tbn0.google.com/images?q=tbn:S-0doYHKc7SnMM)
1875 - Jules-Louis Audemars, Edward-Auguste Piguet formed business in Joux Valley to make watches; specialized in chiming watches; 1907 - 70 employees; 1962 - Georges Golay named manager (named managing director in 1966); March 5, 1968 - Societe Anonyme de la Manufacture D'Horlogerie Audemars Piguet & Co. registered "Audemars Piguet" trademark first used in 1882 (watches, clocks, stop watches, time recorders, chronometers, chronographs, watch movements, and parts of all of the foregoing); 1986 - introduced first wristwatch with second timezone; 1992 - created Audemars Piguet Foundation.
October 24, 1876 - Seth E. Thomas, of New York, NY, received first U.S. patent for a "Clock-Case"; metal case of one-day back-winding alarm clock; assigned to Seth Thomas Clock Company; 1787 - Levi Hutchins made the first alarm clock (for a preset time that could not be altered) in Concord, NH.
1881 - Achilles Ditesheim (19) hired six watch makers, opened shop in La Chaux-de-Fonds, Switzerland; named Movado ('always in motion' in Esperanto); June 10, 1924 - Fabriques Movado Corporation registered "Fabriques Movado Grand Prix" trademark first used December 1, 1910 (watches and parts therof); 1983 - acquired by North American Watch Co. (founded by Gedalio Grinberg in 1961 as exclusive distributor for Piaget, Corum watches in Americas, incorporated in 1967); October 1993 - went public; April 15, 1996 - name changed to Movado Group, Inc.
Gedalio Grinberg - Movado Group (http://www.nationaljewelernetwork.com/njn/photos/stylus/65727-010509_GrinbergL.jpg)
1884 - Sotirio Bulgari opened first jewelry store on via Sistina in Rome; 1905 - opened 10 via Condotti (flagship store); 1970s - first overseas store, in New York; January 5, 1982 - Ditta Sotirio Bulgari di Costantino e Giorgio Bulgari, S.a.s. registered "Bulgari", first used 1881, trademark in U. S. (Earrings, Bracelets, Broaches, Rings, Necktie Pins, Buckles, Cufflinks, Necklaces, All Made of Precious Metals and Precious or Semi-Precious Stones...Wristwatches, Clocks, Pendulum Clocks, Table Clocks; Watchcases); 1984 - Paulo, Nicola Bulgari (grandsons) became Chairman, Vice Chairman, respectively; 1990s - diversified into perfumes; 1997 - first silk collection; 1998 - leather goods, eyeglass collection launched; 2001 - Bulgari Hotels& Resorts created (joint venture with Marriott); March 7, 2011 - 51% Bulgari family interest acquired by LVMH for $5.2 billion in exchange for 16.5 million LVMH shares (second largest family shareholder in LVMH).
Sotirio Bulgari - founded Bulgari (http://vl1.watchprosite.com/img/watchprosite/vl1/26/scaled/vl1_image.987126.jpg)
1884 - Leon Breitling opened workshop specializing in making chronographs, precision counters for scientific, industrial purposes in St. Imier, in Jura mountains of Switzerland; 1914 - Gaston Breitling (son) took over; 1915 - created first wristwatch chronograph, subsequently provided pilots with first wrist instruments; 1923 - developed first ever independent chronograph pushpiece; 1932 -Gaston's sons took over; 1936 - became official supplier to Royal Air Force; June 13, 1950 - Breitling Watch Corporation of America registered "Breitling" trademark in U. S. first used November 18, 1946 (watches and clocks); 1984 - Chronomat launched (return of chronograph); became best selling line in Breitling collection; 1985 - launched Breitling Aerospace.
Leon Breitling - Breitling watches (http://tbn0.google.com/images?q=tbn:2_83pohMTk4pWM)
1893 - Kokichi Mikimoto succeeded in culturing a semi-spherical pearl; first ever grown by man; 1899 - first Mikimoto Pearl store opened in Tokyo's Ginza district; 1913 - first overseas Mikimoto Pearl Store opened in London.
Kokichi Mikimoto - founder cultured pearl industry (http://www.fws.gov/midwest/mussel/images/mikimoto.jpg)
October 1, 1895 - Daniel Swarovski set up factory in Wattens, located in the Austrian Tyrol; specialized in industrial production of cut crystal jewelry stones; 1917 - produced grinding wheels needed for cutting crystal jewelry stones (later sold under registered name "Tyrolit"); 1931 - began manufacturing "trimmings" (jewelry stones processed into decorative bands and laces applied to garments and accessories); 1957 - set up gem-cutting department; May 30, 1972 - D. Sarovski & Co. registered "Swarovski" trademark (optical glass, telescopic sights, opera glasses and binoculars); 1976 - established Swarovski Silver Crystal; produced paperweights, key rings began as souvenirs; 1977 - launched jewelry line; 2010 - employs around 25.000 people, represented in more than 120 countries, leading producer of cut crystal in world.
1897 - Charles Person renamed Boston Clock Company, Chelsea Clock Company (Joseph Eastman, apprentice to Edward Howard's E. Howard Clock & Watch Company founded in 1857, Eastman Clock Company in 1866 in Chelsea, MA; had changed name to Boston Clock Company in 1884; company had been sold at foreclosure in 1896); 1900 - introduced Ship's Bell clock; 1903 - made (possibly first) clock for automobiles (Rolls Royce, Studebaker); 1906 - published first catalog; United States Navy started ordering Chelsea marine clocks; 1928 - William Neagle assumed ownership; 1930 - made, sold electric clocks; 1945 - acquired by Walter Mutz and George King (longtime employees); 1970 - acquired by Automation industries; 1972 - acquired by Bunker Ramo Corporation; 1978 - acquired by Richard Leavitt; 2005 - acquired by JK Nicholas.
1898 - Auguste Reymond opened Fabrique d'Horlogerie Auguste Reymond, watchmaking workshop, in Jura mountain village of Tramelan-Dessus, Switzerland; 1906 - started producing ebauche (movement-blanks) in Les Bioux; 1926 - acquired Unitas Watch Co. (Tramelan); 1932 - "Ebauche" department of A. Reymond S.A. (manufactured movement blanks) acquired by Ebauches Group (formed in 1926) as Fabrique d'Ebauches Unitas S.A. (Reymond Sales Manager until 1934); leader in firld of Braille, low-vision watches; 1989 - acquired by by Nitella S.A
1906 - Alfred Van Cleef, Charles Arpels (brother-in-law) founded Van Cleef & Arpels, boutique at 22 Place Vendome (Paris); 1908 - Julien Arpels joined company; 1913 - Louis Arpels joined family business; 1939 - opened boutique in Rockefeller Center.
1904 - Paul Cattin and Georges Christian opened Oris watch factory at Hölstein, Switzerland.
May 1905 - Hans Wilhelm Wilsdorf (24) borrowed from his sister and brother-in-law, Alfred James Davis, established Wilsdorf & Davis (wholesale watch business) in London; contracted with Herman Aegler (father founded company in 1878) to supply wristwatch movements, to Wilsdorf's specification, manufactured in its factory in Rebberg district of Bienne, Switzerland; placed largest order for wristwatches ever received; 1907 - opened office in La Chaux de Fonds for marketing wristwatches; 1908 - adopted name Rolex (origins unclear); registered Rolex trademark; requested Aegler use it on all watches (reluctantly agreed); March 22, 1910 - received world's first wristwatch chronometer rating from School of Horology at Bienne, Switzerland; July 15, 1914 - received Class A Certificate of Precision award from Kew Observatory in England; first awarded for wrist chronometer (previously only given to marine chronometers); January 12, 1915 - Aegler S. A. Company registered "ROLEX" trademark in U.S., first used in 1912 (watches and clocks; parts of watches and clocks, and their cases); November 15, 1915 - Wilsdorf registered The Rolex Watch Company Ltd; 1919 - gave nearly 15% of company's equity to Herman Aegler (became sole supplier of movements to Rolex, company's name changed to Aegler S.A. Rolex Watch Co.); January 17, 1920 - incorporated Montres Rolex S.A. in Geneva, Switzerland (Wilsdorf sole proprietor); 1921 - shipped watches with Rolex name printed on dial; 1926 - invented the Oyster, world's first waterproof watch; 1950s - Rolex added other makers to product line; 1966 - Aegler name dropped; 1963 - Andre J. Heiniger appointed CEO; 1992 - Patrick Heiniger (son) appinted to lead the company; December 17, 2008 - resigned for "personal" reasons; Bruno Meier, finance director, appointed next head of management; privately owned by Hans Wilsdorf Foundation.
Hans Wilsdorf - founded Rolex (http://2.bp.blogspot.com/_Cv-0TBEhWVE/SWCCELKDdWI/AAAAAAAAHPA/4OetOHi4qqs/s800/Hans-Wilsdorf2.jpg)
1907 - Sam Kwiat opened store on Canal Street in New York City, specialized in selling vintage diamonds; 1933 - David Kwiat (son) joined company; 1955 - put out jewelry catalog, one of first, to smaller markets around country; 1963 - moved operations uptown, became founding member of new diamond district that developing on New York's 47th Street; 1970s - grandsons joined company; expanded beyond private labeling, launched consumer line under Kwiat brand name; 2007 - fourth-generation of family management.
1910 - H. L. Gross, two sons (15, 19) opened H.L. Gross & Bro. Jewelers in Brooklyn, New York (six blocks from jewelry store owned by their uncle); 1914 - sons took over; displayed jewelry on board supported by two sugar barrels; mid-1920s - opened store in Jamaica, Queens; shortly thereafter moved to Hempstead, Long Island; 1969 - Howard Gross (grandson), wife Helene opened store in Garden City; 1971 - Michael Gross (great grandson ) joined business, fourth generation; 2001 - Brad Gross (great great grandson) entered; fifth generation.
1911 - Eugene Blum, Alice Levy (wife) founded company in Switzerland to manufacture watches; created brand name EBEL (acronym of first letters of their name, Eugene Blum Et Levy); concentrated on manufacturing private label one watches; sold watches under private label to Vacheron Constantin, Cartier; sole supplier of watches to the British army during wars; sold many watches in American market under brand name of Paul Breguette; acquired by Charles-Eugene (only son of founders); continued private label tradition of his parents; August 15, 1967 - Fabrique EBEL, S.A. registered "EBEL" trademark in U.S. first used March 6, 1962 (watches and parts thereof); 1970 - Pierre-Alain Blum (grandson) joined company; 1970-1975 - grew at annual rate between 30%-60%; relaunched classic EBEL model – 1911 in form of bracelet with mellow lines, unique sinuous wave pattern; introduced tag line – 'The Architects of Time' (in use for last 30 years); 1996 - Investcorp became major shareholder, Sandro Arabian became Chairman of Company; 1999 - acquired, with French jeweler Chaumet, by LVMH (Zenith, Tag Heuer) for 1.2 billion Swiss francs (Euro754.6 million); December 2003 - acquired by Movado Group Inc for 61.5 million CHF.
Alice Levy, Eugene Blum - EBEL (http://www.expert-watch.com/images/1097048975/ebel_couple.jpg)
1911 - Vincent Sorrentino, Italian immigrant, founded Uncas Manufacturing, jewelry manufacturer, in Providence, RI; 1951 - Stanley Sorrentino (son) took over; 1991 - John Corsini named President; 2011 - third generation of Sorrentinos involved.
1912 - Samuel Silverman, fine guild watchmaker, opened watch, jewelry, optical store in downtown Seattle, WA; 1922 - Ben Bridge joined firm as partner (married Silverman's daughter); 1927 - Silverman's interest acquired by Bridge, renamed Ben Bridge Jeweler; early 1950s - opened second store; 1980 - opened first out-of-state store in Portland, OR; 1982 - entered California market; May 2000 - merged with Berkshire Hathaway Inc.; 2011 - managed by grandsons, fifth generation works in business; 70 retail stores in 12 states.
May 6, 1913 - Ancienne Fabrique Vacheron & Constantin Societe Anonyme registered "Vacheron & Constantin" trademark first used in 1830 (watch cases and movements and detached parts of the same).
1916 - Sol and Edmund Kaufmann opened first Kay Jewelers in corner of their father's furniture store in Reading, PA; original products included eyeglasses, musical jewelry boxes, electric razors; 1980 - 250 stores in 32 states; acquired by Sterling Jewelers Inc (founded in 1906 in Akron, OH by Henry Shaw, acquired by Signet Group plc in 1987); 1990 - acquired by Signet Group plc; 2008 - more than 900 stores; number one jewelry store brand in United States by sales, number of stores.
1926 - United States adopted Tiffany's standard of purity for platinum (95).
1932 - Harry Winston (36), son of a jeweler, founded Harry Winston, Inc. in New York; name synonymous with most famous gemstones and jewelry designs in the world (Hope Diamond, Jonker Diamond, Taylor-Burton Diamond); 1958 - presented the Hope Diamond to the Smithsonian Institution; April 2004 - Aber Diamond Corporation (Toronto, ON), diamond company focusing on mining and retail segments of diamond industry, acquired 51% interest in Harry Winston Inc. for $85 million, raised ownership to 53%; September 2006 - completed acquisition of minority shareholders' interests for $157 million, company valued at about $330 million.
1947 - Nathan George Horwitt designed watch for Movado - black dial, no brand name, no numbers, small circle at top; 1960 - selected by Museum of Modern Art (NY) for permanent collection, named "Museum Watch".
January 27, 1950 - Signet Group plc incorporated in England and Wales under name Ratners (Jewellers) Limited; 1968 - went public; December 10, 1981 - name changed to Ratners (Jewellers) Public Limited Company; February 9, 1987 - name changed to Ratners Group plc; September 10, 1993 - name changed to Signet Group plc; September 11, 2008 - became wholly-owned subsidiary of Signet Jewelers Limited, new company incorporated in Bermuda under Companies Act 1981 of Bermuda (followed completion of scheme of arrangement approved by High Court of Justice in England and Wales under UK Companies Act 2006).
December 16, 1954 - Prof. H. Tracy Hall produced synthetic diamonds at General Electric Research Laboratories.
January 25, 1955 - Columbia University scientists developed an atomic clock accurate to within one second in 300 years.
January 3, 1957 - Hamilton Watch Company (Lancaster, PA) introduced world's first electric watch, never needed winding (more than ten years to develop); instant success; 1969 - production ended.
October 25, 1960 - Bulova placed the Accutron 214, world's first electronic wristwatch (potential accuracy of better than 2 seconds per day) on sale in New York City; 1953 - Max Hetzel, Swiss engineer, began development of tuning fork watch (prototype watches made in 1955), developed Accutron in New York with William Bennett; 1977 - replaced by quartz watches.
December 25 1969 - Seiko released gold-cased Astron quartz watch (spawned millions of cheap, accurate watches, enabled company, along with Casio and Citizen, to assault Swiss watch dominance); cost same as Toyota Corolla car; 1970 - Swiss consortium CEH released watches containing Beta 21 quartz movement and Girard-Perregaux brought out quartz Elcron quartz watch at Basel Fair; 1971 - Girard-Perregaux released industry standard quartz oscillation, 32,768 Hz; mid-1970s - Seiko produced millions of cheap, reliable quartz watches; made watches into accessories; 1983 - Nicolas G Hayek launched Swatch, cheap, disposable, plastic-sealed design classic, became defining symbol of 1980s style, sold millions; rescued Swiss watch-making industry.
1983 - Nicolas G. Hayek, founder of Hayek Engineering AG (founded 1963) merged ASUAG (founded 1931) and SSIH (founded 1930), formed ASUAG-SSIH Holding Company; first sold Swatch, slim plastic watch with 51 parts, vs. usual 91 parts; 1985 - Hayek became majority shareholder; 1986 - name changed to SMH (Swiss Corporation for Microelectronics and Watchmaking Industries Ltd.); 1998 - name changed to Swatch Group; 2000- sales topped 4 billion Swiss francs.
Nicolas G. Hayek - Swatch (http://www.deraktionaer.de/ upload_shop/Hay160_3012.jpg)
(Baccarat), Dany Sautot (1993). Baccarat, Une Histoire--. (Baccarat, FR: Editions Baccarat, 95 p.). Compagnie des cristalleries de Baccarat--History; Crystal glass--France--Baccarat--History.
--- (2003). Baccarat: Une Manufacture Francaise. (Paris, FR: Massin, 277 p.). Compagnie des cristalleries de Baccarat--History; Crystal glass--France--Baccarat--History.
(Birks Henry & Sons), Kenneth O. MacLeod (1979). The First Century: The Story of a Canadian Company: Henry Birks & Sons 1879-1979. (Montreal, QU: Henry Birks and Sons, 128 p.). Henry Birks and Sons -- History.
(Canada Clock Company), Jane Varkaris & James E. Connell (1986). The Canada and Hamilton Clock Companies. (Erin, ON: Boston Mills Press, 139 p.). Canada Clock Company -- History; Clock and watch makers -- Ontario; Clock and watch making -- Ontario -- History.
(Cartier), Gilberte Gautier (1983). Cartier, The Legend. (London, UK: Arlington Books, 253 p.). Cartier (Firm); Jewelers--France--Biography.
Louis-Francois Cartier (http://www.cartier.com/var/cartier/storage/images/media/images/tell-me/living-heritage2/through-time/1847/tm_history_1847/6204-1-eng-WW/tm_history_1847.jpe)
(Cartier), Hans Nadelhoffer (1984). Cartier: Jewelers Extraordinary. (New York, NY: H. N. Abrams, 292 p.). Cartier (Firm); Jewelers--France--Biography.
(Cartier), Franco Cologni and Ettore Mocchetti (1993). Made by Cartier: 150 Years of Tradition and Innovation. (New York, NY: Abbeville Press, 254 p.). Cartier (Firm); Jewelry--France--History--19th century; Jewelry--France--History--20th century.
(Cartier), Hans Nadelhoffer (2008). Cartier. (San Francisco, CA: Chronicle Books, 352 p.). Former Jewelry Expert for Christie's Auction House in Geneva. Cartier (Firm); Jewelry--France--History--20th century; Jewelers--France--Biography. Rise of house of Cartier from modest beginnings in Paris to predominance in world of high fashion.
(Chronometer), Dava Sobel (1995). Longitude: The True Story of a Lone Genius Who Solved the Greatest Scientific Problem of his Time. (New York, NY: Walker, 184 p.). Harrison, John, 1693-1776; Longitude--Measurement--History; Chronometers--History; Clock and watch makers--Great Britain--Biography.
(E. Dent & Co. Ltd.), Vaudrey Mercer; with an introduction by Daniel Patrick Buckney (1977). The Life and Letters of Edward John Dent, Chronometer Maker, and Some of His Successors. (London, UK: Antiquarian Horological Society, 829 p.). Dent, Edward John, 1790-1853; Clock and watch makers--England--Biography.
(Dueber-Hampden Watch Company), James W. Gibbs (1954). The Dueber-Hampden Story. (Exeter, NH: Adams Brown, 64 p.). Dueber-Hampden Watch Company; Clock and watch makers --United States; Clock and watch making --United States --History; Clocks and watches --United States --History. Originally published as a supplement to the Bulletin of the National Association of Watch and Clock Collectors, Inc.
--- (1986). From Springfield to Moscow: The Complete Dueber-Hampden Story. (Exeter, NH: Adams Brown, 120 p.). Dueber-Hampden Watch Company; Clock and watch makers --United States; Clock and watch making --United States --History; Clocks and watches --United States --History. Originally published as a supplement to the Bulletin of the National Association of Watch and Clock Collectors, Inc.
(Forestville Manufacturing Company), Kenneth D. Roberts and Snowden Taylor (1988). Jonathan Clark Brown and the Forestville Manufacturing Company. (Fitzwilliam, NH: Ken Roberts Pub. Co., 120 p.). Brown, Jonathan Clark, 1807-1872; Forestville Manufacturing Company (Forestville, Conn.)--History; Clock and watch makers--Connecticut--Forestville--History.
(Gemological Institute of America), William George Shuster (2003). Legacy of Leadership: A History of the Gemological Institute of America. (Carlsbad, CA: Gemological Institute of America, 451 p.). Gemological Institute of America--History.
(Movado), Fritz von Osterhausen ; [translator, Derek Pratt] (1996). The Movado History. (Atglen, PA: Schiffer Pub., 234 p.). Movado Watch Corporation--History; Clock and watch making--Switzerland--History; Clocks and watches--Switzerland--History.
(Omega), Marco Richon (2007). OMEGA - A Journey Through Time. (Berne, Switzerland: Omega SA, 832 p.). Curator of the OMEGA museum. Brandt, Louis; Omega; watches--history. Evolution of models, from late nineteenth century to present; reproductions of numerous advertisements echo watches shown, lend them colour, feel, flavour of their time; brief history of company; complete list of calibres.
(Arthur Pequegnat Clock Company), Jane and Costas Varkaris (1982). The Pequegnat Story: The Family and the Clocks. (Dubuque, IA: Kendall/Hunt, 187 p.). Pe´quegnat family; Arthur Pequegnat Clock Company; Ontario--Genealogy.
(Premier Designs), Andrew J. Horner with Andrea Horner and Dave Wyrtzen (2000). By Chance or by Design?: The Story of Premier Designs and Founders, Andy and Joan Horner. (Wheaton, IL: Harold Shaw, 222 p.). Horner, Andy, 1924- ; Horner, Joan; Premier Designs; Jewelry trade--United States; Businesspeople--United States--Biography; New business enterprises--United States--Case studies.
(Ratner Group), Gerald Ratner (2007). Gerald Ratner: The Rise and Fall... and Rise Again. (London, UK: Capstone, 224 p.). Ratner. Gerald; Ratners; Jewelry trade--Great Britain. April 1991 - speech at the Institute of Directors, author said: "We also do cut-glass sherry decanters complete with six glasses on a silver-plated tray that your butler can serve you drinks on, all for £4.95. People say, "How can you sell this for such a low price?" I say, because it's total crap"; November 1992 - Ratner resigned.
(Rolex), James M. Dowling, Jeffrey P. Hess (2006). The Best of Time, Rolex Wristwatches: An Unauthorized History. (Atglen, PA . Schiffer Pub. Ltd., 399 p. [3rd ed., rev. and expanded]). Montres Rolex S.A.; Wrist watches --Switzerland --History; Wrist watches --Switzerland --Collectors and collecting.
(Rolex), Franca & Guido Mondani (2008). 100 Anni di Rolex. (Genova, Italy: Guido Mondani Editore, 340 p.). Wilsdorf, Hans Wilhelm; Rolex S.A.; watches--history;. Rolex story (founder Hans Wilsdorf, Heiniger family running company since 1963) from 1908 till now; all important Rolex watches of last century (great detailed photographs); details of bezels, bracelets, boxes, papers.
(Tiffany), Joseph Purtell (1971). The Tiffany Touch. (New York, NY: Random House, 309 p.). Tiffany and Company.
Charles Lewis Tiffany (http://www.tiffany.com/Shared/Images/Photo/charles_lewis_tiffany.jpg; January 18, 1933 Obituary: http://www.nytimes.com/learning/general/onthisday/ bday/0218.html
(Tiffany), John Loring; introduction by Louis Auchincloss (1987). Tiffany's 150 Years. (Garden City, NY: Doubleday, 191 p.). Tiffany and Company; Decoration and ornament--United States.
(Tiffany), Gene Moore and Jay Hyams (1990). My Time at Tiffany's. (New York, NY: St. Martin's Press, 232 p.). Moore, Gene; Tiffany and Company; Show windows--New York (State)--New York--History--20th century; Advertising--Jewelry--New York (State)--New York--History--20th century; Commercial artists--United States--Biography.
(Tiffany), Clare Phillips (2006). Bejewelled by Tiffany, 1837-1987. (New Haven, CT: Yale University Press, 320 p.). Curator in the Department of Sculpture, Metalwork, Ceramics and Glass (Victoria and Albert Museum, London). Tiffany and Company; Jewelers----Biography. History of Tiffany, from founding in 1837 to 1980s.
(Tiffany), John Loring (2008). Tiffany Style: 170 Years of Design. (New York, NY: Abrams, 304 p.). Design Director for 29 years. Tiffany and Company --Catalogs; Jewelry --United States --Catalogs; Decorative arts --United States --Catalogs. History, evolution of 171-year-old company in words, more than 200 stunning images of its most unforgettable creations; role of French Revolution; how company survived Great Depression, three major wars; illustrious clients; most renowned, memorable pieces ever produced; design sketches, vintage and contemporary photography; "Tiffany is the temple of culture, and I'm the high priest."
(Timex), Kathleen McDermott (1998). Timex: A Company and Its Community, 1854-1998, 248 p.). Timex Corporation--History; Clock and watch industry--United States--History.
(Tissot), Estelle Fallet (2003). Tissot: 150 Jahre Geschichte, 1853-2003. (Le Locle, Switzerland: Tissot SA, 351 p.). Tissot SA; Clocks and watches --Switzerland --History; Clock and watch making --Switzerland --History.
(United States Watch Company), William Muir & Bernard Kraus (1985). Marion: A History of the United States Watch Company. (Columbia, PA: National Association of Watch & Clock Collectors, 216 p.). United States Watch Company (Marion, Jersey City, N.J.)--History.
(Van Cleef & Arpels), Sylvie Raulet (1987). Van Cleef & Arpels. (New York, NY: Rizzoli, 328 p.). Van Cleef & Arpels; Jewelers--France--Biography; Jewelry--France--History--20th century.
(Harry Winston), Laurence S. Krashes; Ronald Winston, editor (1993). Harry Winston: The Ultimate Jeweler. (New York, NY: H. Winston, 236 p. [4th rev. ed.]). Winston, Harry, 1896-1978; Jewelers--United States--Biography; Jewelry--United States--History--20th century.
Harry Winston (http://www.islandconnections.com/images/winston/hw.jpg)
Dario Gaggio (2007). In Gold We Trust: Social Capital and Economic Change in the Italian Jewelry Towns. (Princeton, NJ: Princeton University Press, 352 p.). Assistant Professor of History (University of Michigan). Jewelry trade--Italy, Northern; Gold industry--Italy, Northern; Social capital (Sociology)--Italy, Northern; Valenza (Italy)--Economic conditions; Vicenza (Italy)--Economic conditions; Arezzo (Italy)--Economic conditions; Valenza (Italy)--Social conditions; Vicenza (Italy)--Social conditions; Arezzo (Italy)--Social conditions. Late 1960s - three small Italian towns led world in production of gold jewelry (virtually no jewelry industry less than a century before, Italy had western Europe's most restrictive gold laws).
Amy K. Glasmeier. (2000). Manufacturing Time: Global Competition in the Watch Industry, 1795-2000. (New York, NY: Guilford Press, 311 p.). Director of the Center for Regional Research and Industrial Studies at the Institute for Policy Research and Evaluation (Pennsylvania State University); Clock and watch industry--History. Quest for supremacy in manufacture of watches; strategies adopted by specific firms, interplay of varying influences; how sustained regional economic development takes place; how decisions made by corporations are structured by internal, external forces; ways industrial cultures with different strategic learning capabilities facilitate, thwart pursuit of technological change.
David S. Landes (2000). Revolution in Time: Clocks and the Making of the Modern World. (Cambridge, MA: Harvard University Press, 518 p. [rev. and enl. ed.]). Clocks and watches--History; Horology--History.
ed. A. Kenneth Snowman (2002). The Master Jewelers. (New York, NY: Thames & Hudson, 262 p.). Jewelry--History--19th century; Jewelry--History--20th century. Leading jewelry experts bring the social, aesthetic and business aspects of the world of fine jewelry vividly to life.
_________________________________________________________
Business History Links
Jewelry at Historic New England http://www.historicnewengland.org/JewelryHistory/
Online exhibition of jewelry, from the organization Historic New England (founded in 1910 as the Society for the Preservation of New England Antiquities by William Sumner Appleton), features pieces from a collection of over 2000 items. The collection was started in 1913 when a Massachusetts resident gave a gift of early 19th century jewelry to Historic New England. The collection represents the jewelry fashion among New Englanders in the past 300 years, and highlights the jewelry makers of New England. There are two different ways the exhibit can be explored. Visitors can choose "Style & Design" or "Themes", both located in the middle of the homepage. "Style & Design" divides the jewelry up into seven date ranges, beginning with 1730-1775 and ending with 1940-1970. The "Themes" include "Marriage & Sentiment", "Mourning", "Female Adornement", "Male Adornment" and "Societies & Institutions". Some of the pieces of jewelry are accompanied by a photo or painting that helps give context to the piece of jewelry by, for instance, showing a photo of the original owner of the piece, or showing a painting of the original owner wearing the piece. For those interested in more depth and breadth, visitors can click on "Checklist", "Glossary" or "Resources", also in the middle of the homepage, to learn more about the collection and the history of jewelry.
National Watch & Clock Museum http://www.nawcc.org/index.php/museumlibrary
Opened to the public in 1977 with fewer than 1,000 items; collection has increased to over 12,000 items - international in scope and covers a wide variety of clocks, watches, tools, and other time-related items. The largest collection is of nineteenth-century American clocks and watches. However, additional collections include early English tallcase clocks, Asian timepieces from Japan and China, and timekeeping devices from Germany, France, the Netherlands, and Russia. Chronologically, the exhibits take you on a tour through the entire history of timekeeping technology from early non-mechanical devices to today's atomic and radio- controlled clocks.
Pearls http://www.amnh.org/exhibitions/pearls/
This exhibition covers the many types of freshwater and marine pearls, how pearls are obtained, and the history of pearls in society from ancient times to modern day. In the section on What are pearls? you will learn naturally occurring pearls appear in only one of 10,000 mollusks; what starts a pearl is much more likely a stray food particle than a grain of sand; and, since the early 20th century, most pearls are cultured. Subjects: Pearls.
Timexpo® The Timex Museum http://www.timexpo.com/
Tells the story of Timex and its heritage dating back to the 1850's. By the end of the 1950s, one out of every three watches bought in the U.S. was a Timex brand watch. By the mid-1970s every other watch bought in the U.S. was a Timex, and the brand retailed in two hundred and fifty thousand different outlets.